Grief Support During Hard Times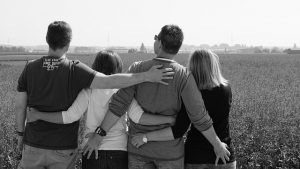 Losing someone you love is likely going to be one of the hardest things you will have to go through in your life. When you have to make final service plans for them, you want to make sure you can cover their needs. Cremation services in St. Charles, MO are affordable, but they are also easy to plan and honorable for your loved one. If that is the direction you want to take, you know they are going to get the dignity and respect they deserve. You are going to have to find the grief support you need to get through the plans, the service, and the grieving process that will take place around those events. Here are a few places you can turn.
Family Members
If it was someone in your family that passed on, family members are going to understand just how special that person was and many of them may be grieving, too. They are the people who care about you the most and it might feel natural and easy to turn to them when you need to vent your emotions, talk about your loved one, or just sit in silence with your thoughts alongside someone else.
The Cremation Experts
Cremation experts are there to ensure that your loved one gets the care they need, but they are also for you during, and even well after the services are carried out. They understand grief on a deep level and they have an easy sense of compassion. They will want to hear your stories as you make plans and they can give you grief resources even if you had services for your loved one weeks ago. They are still going to be there for you.
Support Groups For The Grieving
It might help you to process what you are going through if you visit a grief support group. These groups are people who have had similar losses banded together. While no loss is identical and no grief is the same, you might still find what you need in the group. As you listen to what others are going through, or have been through, you might feel less alone in your own emotions. You may also hear a path through the grief that you think might work for you and when you see others that have healed some, that can give you hope. You might also feel comfortable enough to talk about what you are going through and venting your emotions can help you as well.
Professional Grief Counselors
If you feel more comfortable talking to people one-on-one, you can get references for grief counselors. These are people who specialize in grief and are there to help you to find a way through this hard time.
Websites/Chats
There are lots of things you can do online today as well and one might even be to find grief resources. There are websites where you can read about cremation services in St. Charles, MO, and get tips for healing. You might also find some chat rooms with like-minded people.