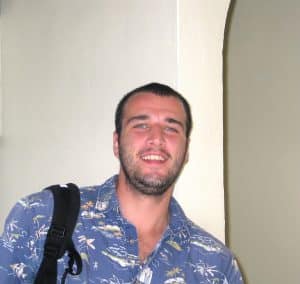 Nicholas John Puccio passed away suddenly on August 23, 2022 at the age of 39. Nick was born on May 17, 1983 in Washington, DC to Sharon (Henderson) and Joseph Puccio, Jr.
Nick was a 2001 graduate of Kirkwood High School and went on to obtain an Associates Degree in Culinary Arts. He worked in numerous kitchens around St Louis and spent 3 years in St John, US Virgin Islands. He was truly a master at his craft. His playful energy and wit brought laughter and joy to the room. Nick had a big, kind and sensitive heart. He was a skilled artist and often expressed his feelings through drawing and music. He was also an eloquent writer. He adored his cats and enjoyed a good joke. His presence will be greatly missed by all who knew him and loved him.
Nick was predeceased by his grandmother, Loretta (Thrasher) Cartee. He is survived by his mother, Sharon (Henderson) Rottler and step-father Paul Rottler of Kirkwood, step-brother Nic Rottler (Kelly) of Marina California, sister Lisa (Puccio) Whitfield (Eric) of Kirkwood, step-sister Dana Rottler (Peter) of Vallejo California, grandfather Printis Cartee of O'Fallon, and aunts, uncles, cousins, nieces and nephew.
A Celebration of Life will be held on Friday, September 23 rd from 6-8pm at Connection Christian Church, 1332 Feise Road, O'Fallon, MO 63368.