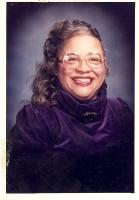 The name Althea means "Beautiful Flower", and Althea Robnett was certainly well named. Throughout her life, Althea bloomed beautifully wherever she was planted, and brought grace, beauty and joy to all of those who crossed her path.
Althea Robnett was a native St. Louisan who grew up in the city and often spent time in Meacham Park with her family. She attended Sumner High School while her only beloved brother Eugene Robnett became a well-known golden glove boxer. She married a soldier Jose Adolfo Nadal of Ponce, Puerto Rico bringing eight children to this world including Cecilia, Jose, Miguel, Ricardo, Anita, Juan, and Rosa. Together they were married for 24 years and lived in Cape Cod, Massachusetts, Florida, and the Canal Zone in Panama and in Puerto Rico.
After having eight children, Althea decided to go back to college and graduated from InterAmerican University in Aguadilla, Puerto Rico with honors in Psychology. Althea worked for the University City Public School system as an educator and was very popular with the children and her peers. She contributed to the education of many professionals and leaders in University City, and frequently boasted about one of her favorite students Major Ernest Green of the University City Police department. However the students that most touched her heart were her students with Down-Syndrome, and she felt most rewarded by the success she had with them.
She was an award-winning dancer in Salsa and Merengue often in competition with much younger dancers. She was happiest when she could dance barefoot under the starry sky. She wrote several songs that were published. Being at heart a teacher of life, Althea instilled a love of music in all of her own children as well as in many of those she taught.
Althea later married Orell Stoner, also a soldier with whom she remained married for 24 years living in University City. Orell allowed the love of his life to be herself, a fun-loving "gyspy" adored by everyone who met her. Their favorite past time was dining out together, their favorite dates were at the Piccadilly Restaurant.
Althea leaves many grandchildren to mourn the loss of her laughter and free spirit. These include Maria Chappelle-Nadal, Jose, Miguel, Stephan, Kyra Anastasia, Reina, Dakota, Tucker, Zoë, Dominic, Juan Jr., Quentin, Brittany, Amber, Nicholas, and Rene Nicole. Althea was thrilled to see her oldest grand-daughter become State Representative of University City, Pagedale and Wellston and adored each and every one of her grandchildren as individuals.
There are literally hundreds of ordinary people who came to know and love her. One of her most memorable experiences was being a part of the wedding of the Bosnian Roma leader in St.Louis. The staff of the St. Louis Bread company in University City grew to love her as she made her daily visit to enjoy coffee and discussion. When she did not come, they felt comfortable calling the family to make sure she was all right. When Althea developed early signs of dementia, the staff protected and looked out for her like their own family. Althea preferred commuting by bus often traveling to Chesterfield or Fairview Heights to shop. She did this for years developing long-term relationships with frequent riders and Metro personnel. They too would be helpful in protecting Althea in the very early stages of her illness.
All will miss her never-ending smile and laughter and unpretentious beauty as a person
determined to enjoy life at the fullest. From the sparkle in her eyes and smile to the sparkle on her hats and clothes, she was a woman who literally shone inside and outside.
Althea, beautiful flower, we thank you for making our world more lovely and more joyous.