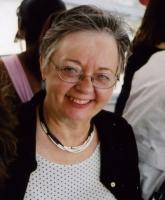 Carol Ann Filla Raziq left this earth on March 17, 2009 at the age of 71,
from complications of pancreatic cancer. Devoted daughter of Walter and
Clementine Filla, loving sister of Robert Filla, all of whom preceded her in
passing. Loving and beloved mother of David and Annalise Raziq. Sweet grandmother
and buddy to Kalila Holt. Niece and best friend to Jeanette Shields of San
Jose, California. A dear friend and second-mother to many. Carol was a life-long
lover of music and theatre who continually educated herself. Avid reader and
supporter of the University City Public Library. Fan and supporter of the St.
Louis Symphony Orchestra and Opera Theatre of St. Louis. She lived in New
York City during the growth of bebop jazz in the 50's, another form of music
she supported. Eventually returning to St. Louis with then-husband Said Raziq,
she would later lovingly attend to both her parents in their elder years,
caring for them and being present for the passing of each.
Great humanitarian and also a lover of animals. Excellent cook and gardener.
Feisty and full of get-up-and-go, always on the move. World traveler who was
able to fulfill her life-long dreams of going to Paris (three times!),
Egypt, and sailing down the Nile, among many other trips. Collector of goofy
hats and lover of wind-up toys and chickens in all forms. Always ready with an
easy laugh and a kind word. She lived her life with great integrity and left
this earth saying, "Don't be sad. I'm not. I've had a good life." Words
cannot express how deeply she is missed. She will live forever in our hearts.