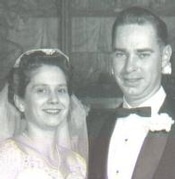 Geraldine "Gerry" L. Bott (nee Zimmermann) passed away on Monday, March 9, 2009. The Lord reached out to save her from further suffering due to many complications during a four-week hospital stay in the I.C.U.
Beloved wife of William (Bill) J. Bott for 51 years; loving mother of David W. Bott and Debra S. Bott; dear sister, sister-in-law, aunt, cousin, and friend to many.
Gerry was a secretary and a travel reservationist for Anheuser-Busch executives from 1951 to 1961 in the office of the Vice President. Gerry chose to be a housewife and loving mother from 1962 to her passing. She was a member of the Affton Elks Lodge and a bingo enthusiast of the area games.
She will join her mother, Sophia, and father, Garland Zimmermann in the house of our Lord Jesus Christ and God our Father.