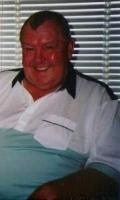 James "Diamond" Richard Channell, born August 31, 1929 in Coalton, Ohio passed away March 7, 2009. Beloved father of Terri Brewer and grandfather of Shawn Brewer Baker of Anna, Ohio, and Marcus Brewer of Dayton, Ohio. Great grandfather of Matthew Brewer, James Brewer, John Gabriel, Hailey Baker, Chandler Baker, and Zachary Denham.
James was a veteran of the Korean War and a member of the Roofers Union in St, Louis, MO.
Dear friend of many, many St. Louisians and Ohio Buckeye fans.