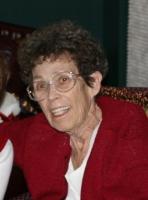 Tielke, Jane F. (nee Hillner), Began her Eternal Peace in Jesus, Saturday, May 10, 2008.
Loving wife of the late Donald P. Tielke; wonderful mother of Cheryl (Mark) Nankivil; Paula (John) Forir; and Stephen (Sharon) Tielke. Dearest Nana of Julia and Claire Tielke and Jack Nankivil. Preceded in death by her parents Joseph J. and Sylvia Hillner; sister of Joseph (Lucy) Hillner; the late Janice Hillner; James (Kathy) Hillner; Jerome (Mary Lee) Hillner; J. Leo (Maureen) Hillner; and the late Jayson Hillner; our dearest aunt, cousin, and friend to many. She will forever be remembered for her Faith, love of life and family. Per her intentions, her body has been donated to the St. Louis University School of Medicine.
Jane was employed by the City of St Louis for many years as a registered dietician and was instrumental in pioneering the Meals on Wheels food program for St. Louis Senior Citizens. Until her health deteriorated, she was a remarkable and creative seamstress and cook, she enjoyed painting ceramics, refinishing furniture, and playing bridge. She always gave of her time and resources to her family and to others in need. She was a role model in many ways for all who knew her.