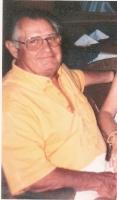 Fortified with the Sacraments of Holy Mother Church, June 3. 2008.
Beloved husband of Cynthia "Cindy" Ebinger, nee Wright, dear father of Michael (deceased), Terry, Beau, Leslie, Karl and Eric, loving grandfather of Rio.
Jack served in the U.S. Army during World War II. After serving his country he attended Washington University earning a graduate degree in Architecture. The majority of his professional career was as president of Fru-Con, the design division of Fruin-Colnon and spent several years working in the United Arab Emirates, Kuwait and Saudi Arabia.