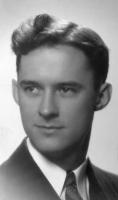 John R. McGregor lost his battle to cancer on May 15, 2008 at the age of 91.
He is survived by his wife of 68 years, Marian (Schulz), children John, Kay
(William) Palmer, Susan (James) Denny, Donald (Denise), and Douglas (Grace);
five grandchildren Melanie, Lynn, Matthew, Jenna & Lauren and two great
grandchildren Ben and Alex. Mr. McGregor retired from Monsanto as the
Textiles Division Controller after forty years of service in 1981. He
served in the Navy from 1942 until 1946. A gentlemen's gentleman who feared
nothing and was loved by all.