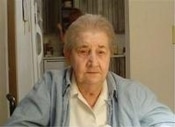 Nelle Briscoe Rodgers, 91, St. Louis, MO, formerly of Willard, MO passed away July 4, 2008 at St. Anthony's Hospital in St Louis from complications related to congestive heart failure and kidney failure. She was born September 4, 1916 in Hernando, MS. Nelle graduated as Salutatorian from her Hernando Mississippi High Class of 1931 and from the University of Tennessee in 1934.
Nelle started her career as a registered nurse for Memphis City Hospital, moved to Union, TN in the late 30's and worked for Drs Blanton Sr, Kimzey and Blanton Jr. She moved to Springfield, MO in 1958 and after 23 years of service, Nelle retired as a Registered Nurse from Lester E. Cox Medical Center in 1981 where she served as the Managing Nurse of Surgery. She was remembered for her efficency and nononsense style. She did speak fondly of the memories she had of cooking hamberrgers with staff on slow case days and Christmas parties with her assistant Betty Fern and Mr. Wirthly. After retirement, she worked part time to establish the Plastic Surgery Clinic of Springfield, Inc. and worked with Drs Domann, Danielsson and Wall.
Nelle had many hobbies through the years. Nelle was Southern Baptist and excellent seamstress and southern style cook. In the 1960's and 70's she loved fly fishing always enjoyed being at the opening day of trout season at Roaring River State Park is located 7 miles south of Cassville, Missouri.
She also made thousands of Christmas decorations, patiently sticking pushpins with beads into covered styrophome balls. Dozens of friends and family members still hang them on their tree every year.
Another talent she has was crocheting tablecloths and afghans.
Nelle never forgot a birthday or holidays and always sent a card. She was always generous and very thoughtful of others especially her granddaughter with whom she lived with for the past 10 years in St. Louis, MO.
Nelle was preceded in death by her daughter, Teresa Janelle Thomas; sisters, Zeta Bahn and Audrey Mulligan; and
niece, Lisa Briscoe.
She is survived by granddaughter Audra Thomas-Monti (of the home); brother Olin Murphy Briscoe of Hernando, MS; nieces, Vickie Briscoe of Hernando, MS, Risa Kohl of Bartlett, TN, and Stephanie Salmon of Chauvin, LA; nephews, Clifford Shaffer Jr. of Wichita, KS, Grant Shaffer of Seminole, FL and Dale Shaffer of Meadville, PA. Many cousins, great nieces, and great nephews.