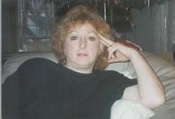 It is with great sadness that we announce the passing of Patricia Lipari who succumbed to ovarian cancer on Saturday, April 26 2008. She died peacefully in her sleep at home with her husband Mario and children Michelle, Mark and Paul and their spouses by her side. Pat was born in Niagara Falls, NY on September 8, 1942, to the late Guido and Francis D'Aloise. Pat and Mario were married in 1963. They danced at their wedding, they danced at parties and they danced at home. Pat so loved her grandchildren. She will be greatly missed by Randy, Kayla, Valin, Lauren and Lauren's baby brother "Boy" who is on his way.
Pat was loved by so many. During her illness she received countless phone calls, cards and letters of support and hope from family and friends across the country. While courageously battling her cancer for over two years, she worked tirelessly at Chesterfield Elementary School where she managed the cafeteria. The hundreds of heartwarming cards and messages she received from the children and staff at her school during her illness warmed her heart and always made her smile.
Pat's family will miss the weekly Saturday morning "kitchen banter" between her and Mario. They will miss her no nonsense advice that was usually only given when asked for. They will miss her smile. Those who were closest to her will aspire to Pat's balance of humor, compassion, wisdom and courage. And anyone who has tasted her cooking knows it will be impossible to come close to replacing her world-class spaghetti sauce.