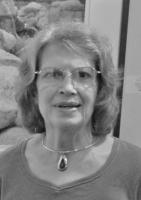 On Sunday, June 22, at home following a 12-year battle with breast cancer at the age of 67. Beloved wife of Michael Bouman, stepmother of Jennifer Steagall and Ben Bouman.
Sandra came to St. Louis in 1996 following a lengthy career as a singer and voice teacher in New England, where she worked at Dartmouth College, Middlebury College, Johnson State College, and the University of Vermont. She became Director of Vocal Studies at Southern Illinois University Edwardsville in 1999 and achieved tenure for the second time in her career in 2005. Her focus at SIUE was to improve the quality of voice instruction in her department and in the area. To that end she recruited promising new faculty, developed a Certificate in Vocal Pedagogy for working school teachers, and allied SIUE with the expansion of Opera Theatre of St. Louis's "Artist in Training" program to the Metro East.
Educated at Penn State University and the Juilliard School in New York, she also earned a Certificate in French Vocal Music at the Ravel Academy in southern France under the tutelage of the leading exponent of that repertoire, Pierre Bernac. From 1994 to 2004 she was a featured artist at the International Music Festival in Pitten, Austria.