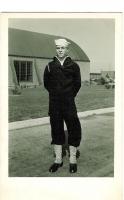 William Richard Pack, 80, Festus, died May 27, 2008, at his home. He was
born Jan. 23, 1928, in Conway, the son of Benjamin Harrison and Anna
Neoma (Davis) Pack.
He was a pipefitter retired from the Pipefitters Union Local 562. He
served in the U.S. Navy during World War II and was a member of Festus
VFW.
He is survived by his wife, Mary "Bess" Elizabeth (Fleetwood) Pack;
eight children, Kathy Ellis of Breckenridge, Colo., Nancy Stiffler of
St. Louis, Barbara Omera of Fairbanks, Alaska, Vicky Pack, Steven Pack,
Patty Arcobasso, all of St. Louis, Michael Pack Knapp of Chicago,
Benjamin (Kimberly) Pack, both of Festus; his sister, Betty Bridger of
St. Louis; 13 grandchildren; 10 great-grandchildren; and his former
wife, Shirley Housewright of St. Louis.
He was preceded in death by his parents; four sisters, Anna Marie Pack,
Ruth Dickens, Peggy Gilbertson, Barbara Buckley; and two brothers, Ralph
and Gene Pack.