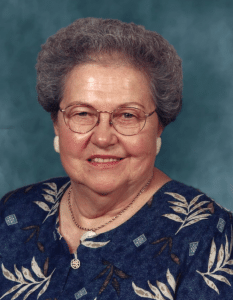 March 26, 1928 – December 29, 2020
Born in Ringtown, Pennsylvania
Resided in O'Fallon, Missouri
Audrey Marie Helsley (nee Stauffer) O'Fallon, MO, entered into the presence of her Heavenly Father on December 29, 2020 at the age of 92. She was born to Harry and Gertrude Stauffer on March 26, 1928, in Ringtown, Pennsylvania.
After graduating high school, Audrey worked as a bookkeeper. She married Donald H. Helsley on September 13, 1947. Audrey and Don were married for 59 years. They were blessed with three daughters; Catherine (James) Crosier of Florissant, Dawn (Micheal) Kahler of Lake St. Louis and Malu (Donald) Martin of Troy. She was devoted to caring for her children at home for many years. Audrey continued her bookkeeping skills when she and Don owned their HVAC businesses.
Attending church and serving the Lord with gladness brought great joy to Audrey. Through the years, she served on various church committees, the Altar Guild, and was a member of LWML.
Audrey and Don traveled to several countries, Scotland was her favorite. She also enjoyed traveling with Don to several Super Bowl games. Audrey remained a loyal St. Louis Cardinals Baseball fan.
Audrey's greatest joys were her six grandchildren; Jennifer Strauss of St. Peters, Jamie (Allen) Freivogel of Florissant, Matthew Kahler of St. Louis, Emily Kahler of Lake St. Louis, Maxwell (Rachel) Martin of Hermann, and Mitchell Martin of Creve Coeur. She treasured time spent with her eight great-grandchildren; Justin, Hannah and Heidi Strauss, Taryn, Drew and Seth Freivogel, Naomi Trowbridge and Audrey Martin.
Family was very important to Audrey. She was a devoted wife, mother and grandmother. She had a great sense of humor and quick wit! How she loved spending quality time with her grandchildren – going for walks, visiting her favorite donut shop, solving puzzles together, and playing cards, dominoes and board games. Audrey was dearly loved and will be greatly missed by all who knew her.
Audrey was preceded in death by her parents, her husband, one brother, Chester Stauffer and one sister, Rita Patrouskie.
Memorials may be made in Audrey's name to the Alzheimer's Association or to Holy Cross Lutheran Ladies Guild.
A memorial service will be held at 11:00 AM on Monday, January 18, 2021 at Holy Cross Lutheran Church, 8945 Veterans Memorial Parkway, O'Fallon, MO 63366 with a visitation beginning at 10:00 AM prior to the service. A private interment will take place at a later date.
The funeral service can be streamed on www.hcross.com