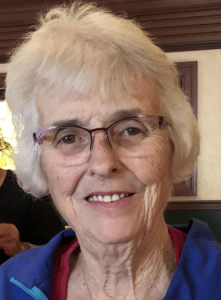 Barbara Ann Alsmeyer was born on August 19,1939 in St. Louis to the late Douglas and Anna Bernice Walker. She passed away quietly at home surrounded by her loving children on April 25, 2022.
She was preceded in death by her loving husband of 54 years, Robert, and her dear brother, Douglas Walker.
Barb is survived by her children, Bob (Marie) Alsmeyer, Susan Unruh, and Jo Ann (Bill) Abell; brother, Dennis (Cathy) Walker; and sister-in-law, Afra Jean Walker. She was a loving Mimi to Emma, Maddie, Abigail, Megan, Drew, Patrick, and Drake. She was a dear aunt to many nieces and nephews. Barb was a very special friend to Chris, Bettina, Gavin, and Katelyn Pignataro.
Barb lived an exciting life filled with travel and adventure. She was always ready to go wherever life led her, especially if it involved her family. She enjoyed volunteering through OASIS, Girl Scouts, Boy Scouts, CYC, and many others. Sports were a major part of her life whether it was softball, volleyball, basketball, bowling, or golf, she was always ready to win! Her time playing high school sports at Incarnate Word Academy was very dear to her. She would often be found at Busch Stadium cheering on her beloved St. Louis Cardinals!
Barb had very fond memories of her childhood and was often found sharing stories of her beloved family. She will forever be remembered for her humor, wit, shining smile, joy, love of all things Irish, and the incredible love she gave to all she met!
Our family would like to thank the wonderful caregivers at Solace Hospice who provided such loving care to our mother.
Barb's amazing life will be celebrated at a Memorial Mass at 10am on Saturday, May 7th, 2022, at St. Norbert Catholic Church, 16455 New Halls Ferry Rd, Florissant, MO 63031.
She will be laid to rest with her husband at Jefferson Barracks National Cemetery.