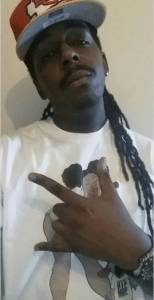 Bryan Jamal Maide-Shead Sr. also known as "Bam" by family and friends, was born on June 4, 1989 in Saint Louis, MO to father Nathaniel Shead Sr. and mother Dionne P. Maide. Due to an unforeseen motor vehicle accident he tragically departed from us on September 13, 2022, also in Saint Louis, MO. 
Bam was always hardworking, always thinking of the next way to level up, striving to be the best man he could be for his children. Bam was very intelligent and received his high school diploma from the Jennings school district. He later went on to complete general studies at Forest park community college. Shortly after Bam received his forklift certification and started working in the warehouse industry. He ultimately obtained his masonry/cement certification to move into the construction industry in which he enjoyed greatly. 
Anyone who knew Bam couldn't help but fall in love with him. He was an outgoing, kind, free spirit who loved people and loved being around people socializing. He'd do anything for anybody but wouldn't hesitate to get on your line if that was needed. Bam was truly the life of whatever party even when he was laid back in his zone. Bam loved vibing to music and writing music, with his favorite rapper Gucci Mane being his inspiration. He loved cracking jokes, laughing and just having fun despite whatever life decided to drop at his feet. Wherever and whoever he could truly be himself with, he was "HOME." 
Bam was preceded in death by his maternal grandmother Barbara Ginger, maternal grandfather Roosevelt Ginger, maternal aunt Bernita Maide, paternal grandmother Elaine Shead, paternal grandfather Leroy Shead, paternal aunt Sylvia Jacquess, paternal uncles Jonathan, and Joseph Shead. 
When Bam departed from us on September 13, 2022 he left to cherish two sons Bryan J. MaIde-Shead Jr. and Brandon Maide-Shead. Sister Brittany Maide-Shead and bonus sister Keanca Betts, Brothers Nate Shead Jr., Edwin Shead, James Spears, and bonus brother Nick Mcpherson. Stepmother Debra Shead. Best friends Danay, Willie, Carmen, Stormi, and Red along with a host of nieces including Kylee, nephews, aunts, uncles and associates. 
Bryan Jamal Maide-Shead Sr. was truly loved and will forever be missed. Rest in power until we meet again.