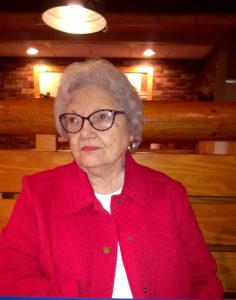 Carol Ruth Kase (nee Cochran) of Defiance, Missouri, passed away Sunday, May 1, 2022.
Carol was born in Claremont Township, Richland County, Illinois on July 3, 1933.  She grew up on a farm in the Sumner, Illinois, area and graduated from Bridgeport High School.
She spent many years employed in the oil industry in St. Louis, working for Standard Oil, Shell Oil, and Apex Oil.  Carol enjoyed reading, birdwatching, and road trips.
Carol was preceded in death by her parents Rex and Lola Ruth (nee Grogan) Cochran and two sisters Virginia Lee Cochran and Agatha Merle Provines.  She is survived by her husband of 63 years Erick E. Kase and daughter Virginia Kase.
No services will be held.  Memorial donations may be made to the charity of choice.