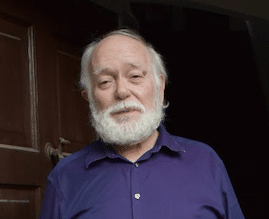 Carter Curtis Revard died on the morning of January 3, 2022 at the age of 90 at his home in University City in St. Louis County, Missouri. 
He was born in Pawhuska, Oklahoma in 1931, along with his twin sister, Maxine, to Thelma Louise Camp and McGuire N. Revard. He was raised in the Buck Creek Valley on the Osage reservation by his mother Thelma, who married his stepfather Addison Jump. Together Addison and Thelma brought along and cared for him and his six siblings—Antwine Pryor (his elder), Maxine Revard, Ireta "Josie" Jump, Louis "Jim" Jump, Josephine Jump, and Addison Jump Jr. As he writes in his autobiography Winning the Dustbowl, he grew up part of "a mixed-blood family of Indian and Irish and Scotch-Irish folks," which includes more cousins and aunts and uncles and grandparents and nicknames than can easily be included here. His mother's brother, Woodrow "Woody" Camp, and his beloved aunt Jewell McDonald merit naming, though, as do their children, his Ponca cousins: Darlena, Carter, Dwain ("Bucky"), Craig, and Katherine ("Casey"). 
After attending the one-room Buck Creek School for the first eight grades, he went on to be graduated from Bartlesville College High School, then to attend Tulsa University on scholarship, having placed third in a radio quiz scholarship competition. He was graduated from Tulsa University (1952), then earned a Rhodes Scholarship, which allowed him to study at and receive a degree from Merton College, Oxford in 1954. In 1952, on receiving his Rhodes Scholarship, he was given his Osage name, Nompehwathe, by his Osage grandmother, Josephine Jump. In 1956 while working on his Ph.D. in English at Yale University, he met and married his fellow English scholar, Dr. Stella Hill Purce Revard. He completed his Ph.D. in 1959 and subsequently taught at Amherst College in Massachusetts. Beginning in 1961, he taught at Washington University in St. Louis, where he remained, retiring officially in 1996 but persisting (for all good professors do) as emeritus to shepherd many young scholars onward. 
In addition to teaching at Washington University and as a visiting professor at the Tulsa University and the University of Oklahoma, Revard published scholarly and creative work of great variety. His research into the Harley manuscript and his general work on medieval literature was an early and continuing focus for him. His expertise in linguistics and lexicology led him briefly to collaborate on the government efforts to put the English lexicon into computers in 1967. His devotion to Native American culture led him to be an enduring voice for inclusivity and multiculturalism in the classroom, in countless works of criticism, and in his essays and poetry. Indeed, a distinctive voice resonates in all his poetry, beginning with the chapbook My Right Hand Don't Leave Me No More (1970), then Ponca War Dancers (1980), and continuing with Cowboys and Indians, Christmas Shopping (1992), An Eagle Nation (1993), How the Songs Come Down: New And Selected Poems (2005), and concluding with From the Extinct Volcano, A Bird of Paradise (2014).  These books of poetry were paired with two works of autobiography: Family Matters, Tribal Affairs (1998) and Winning the Dustbowl (2001) that tell his story fully. In all these works, as he says in his dedication to How the Songs Come Down, his principal and humble concern lay with "the small birds only/ whose life continues on the gourd/ whose life continues in our dance…"  He listened and looked first for those small birds and sought to praise their power of flight as what sustains us all, first and last.
Carter Revard was preceded in death by his wife, Stella, in 2014. He is survived by his brothers Louis "Jim" Jump and Addison Jump Jr., his sister Josephine, and his children, Stephen Revard, Geoffrey Revard, Vanessa Roman, and Lawrence Revard.
Due to the ongoing pandemic, memorial services will be held in the summer of 2022 when conditions allow.