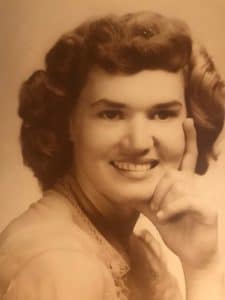 Daisy "Mac" Burghardt (nee Russom) was born in Hornsby Tennessee on March 26, 1933 and passed away on Thursday October 7, 2021, at the age of 88 at Delmar Garden nursing home in St. Louis. Daisy was the daughter of Chester and Ollie Russom. She was a mother, grandmother, great grandmother, sister, aunt, and friend and will be missed. She grew up with 7 siblings- sisters, Hester Morine Kemp, Liddie Madene Clowers, Bessie Imogene Moore and brothers, J.D, Wilkie, Earl "Bubbles" and Jerry.
She worked at Killark Company in St. Louis for several years until retirement. Cherishing her memories are her son, John B Burghardt (Marie); 3 grand children, Joseph (Alex) Burghardt, Katelynne Burghardt, Christopher Burghardt; 2 wonderful and great grand children, Isaac and Aiden; lots of nieces and nephews; and many friends of Jehovah's Witness.
She is preceded in death by her parents, Chester and Ollie Russom; sisters, Imogene and Morine; brothers, J.D. Russom, Wilkie Russom, Earl Russom and Jerry Russom; her daughter, Regina Tatum; and her son, Francis Hogg.
She is survived by her son, John, and her sister, Madine Clowers.
The family would like to thank our families and friends for all the kinds words and other condolences.
She wishes for a ceremony at one of Jehovah's Witness at a later date to be determined. There was no funeral services as per her request.