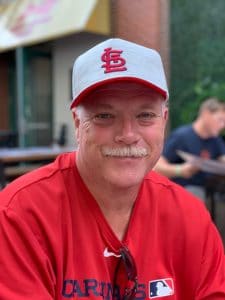 Daniel Edward Schroeder February 13, 1959 – December 10, 2020
Dan Schroeder was not a man of many words, but he was a man full of love. His soft voice always put a smile on your face and often surprised you in unexpected ways. He worked tirelessly throughout his life to give his family everything he could. Dan was looking forward to retiring in 2021 after working in the tool and die industry for many years, with the last 30 years spent at Davis Tool and Die. His number one goal was to forever make his wife and girls happy. He never missed a chance to be the dad his three daughters needed, attending every event and milestone no matter its significance. During his 35 years of fatherhood, he always went the extra mile to make his daughters lives better, whether that was letting them paint his nails or taking them for ice cream when they wanted something sweet. He never desired the spotlight, but he was always there to lend a helping hand to those in need. He was a loving husband, a solid fishing friend, a bowling buddy, a backyard gardener, a ballpark seatmate for the ages, always willing to play a game (even if it entailed being a pretty princess!), a skilled handyman, a talented artist, and so much more. Funny, observant, and always in your corner, Dan was taken from us far too soon and will be greatly missed by many. Life will not be the same without Dan, but the world is brighter due to him.
Dan passed away from complications of COVID-19. He left the world peacefully, knowing that he was dearly loved by his surviving family including his wife Barb Schroeder of 37 years; his daughters Amy Schroeder (Zac Oldenburg), Sarah AuBuchon (Jake AuBuchon and recent grandson Elliot Alan Edward AuBuchon), and Megan Schroeder (Doug Peters); his father Carl Schroeder; his brothers Bill Schroeder (Angie Schroeder) and John Schroeder (Joan Schroeder); his mother-in-law (Marcella Zufall); brothers-in-law Daryl Zufall (Debbie Zufall), Norman Zufall (Sharon Zufall), Kevin Zufall (Dawn Helderle); Kenny Zufall (Jenny Zufall); sisters-in-law Rosean Zufall (Thomas Quatmann) and Jeanette Blain (Jonathan Blain); and 14 nieces and nephews. Dan is preceded in death by his mother (Ruth Schroeder), brother (James Schroeder), and his father-in-law (Eugene Zufall).
Services: Dan will be cremated and his ashes scattered by his wife and daughters across the places that he loved and enjoyed in life. A celebration of Dan's life will be planned once it is safe to do so, and our family urges all to remain healthy and safe from COVID-19.
In Memoriam: Dan had a love for the outdoors, greatly enjoying his fishing trips with his family and friends. One of his favorite places to fish was Montauk State Park. In lieu of flowers, consider donating in Dan's memory to Montauk. You may donate online at this link (select Montauk SP): https://mostateparks.com/page/55073/donate-missouri-state-parks.
If you wish to donate via mail (check or money order), please make the document payable to the State of Missouri, Missouri Department of Natural Resources. Mail it to the address below and mention it is directed towards Montauk Missouri State Park in memory of Dan Schroeder.
Missouri State Park Donations
Department of Natural Resources
PO Box 176
Jefferson City MO 65102