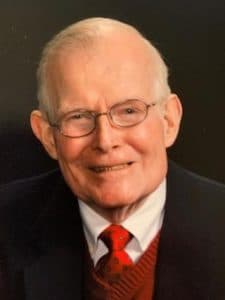 Baptized into the hope of Christ's Resurrection November 15, 2021. Dan was born in St. Louis on December 6, 1935 with his twin sister Ruth Ann. Dan was the loving husband and best friend of Marybeth (Otto-Radici) Foley, loving, caring father of four daughters from a previous marriage:  Meg, Maura, Clare and Brenna.  
He was preceded in death by his dear parents Daniel and Cecelia (McKenna) Foley, his sisters Ruth Ann Clark, Kathleen Tierney, Mary Foley and most recently Betty Lockwood (Bob). Dan leaves his many nieces and nephews (who called him "Doc"), cousins and good friends.  All very dear to him.
Danny was a kind, loving person whose Catholic faith grew strong and deep throughout his life. True to his Irish roots, he had a great sense of humor, loved to sing, listen to music, and enjoyed a variety of stage shows and was always ready for a good party for almost any reason.
Dan gave his life to God for many of his younger years through the Franciscan Capuchins as a Religious Brother, later joining the Carthusians, a cloistered, contemplative community as a Brother. As his life changed, he later became an RN for many years, caring for all he served with kindness.  
He will be heart fully missed by all who love him. May Jesus consume him in His love and give him peace.
Funeral Mass at 10:00 A.M. Tuesday, November 30, 2021 at St. Justin Martyr Church. Interment at St. Peter and Paul Cemetery at a later date.