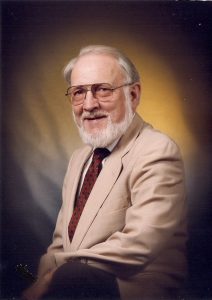 David Lewis Beebe, Th. D.
Born: September 7, 1931 in Nady, Arkansas
Died: March 4, 2020 in O'Fallon, Missouri
David Lewis Beebe was born to Clara Gertrude Lewis Beebe and Clifford Averill Beebe in depression-era rural Arkansas. His father was a country pastor who sometimes got paid in livestock, and his mother was an English teacher who lamented the growing disuse of the word "shall." He was delivered by a midwife, because the doctor's buggy got stuck in the mud. When the doctor got there, he delivered David's twin brother, Paul Victor Beebe.
David began writing poetry when he was very young. His first book of poetry was published on his father's printing press, and his love of poetry was a constant throughout his life and ministry. His hymn "Let Us Hope When Hope Seems Hopeless" is included in The New Century Hymnal (https://hymnary.org/hymnal/NCH1995).
It was during his teen years that David began ministering to others, preaching on the courthouse steps in Little Rock, Arkansas. During his time at seminary, he decided to join the United Church of Christ because of the UCC's affirmation, "That they may all be one." He worked for unity and community throughout his life, as an advocate for human rights and racial justice in Chattanooga, Tennessee; through his work with the UCC Stewardship Council; and in his work helping churches to find their way to calling a new pastor (intentional interim ministry).
On April 10th, 2019, the Reverend Dr. David Lewis Beebe was honored with the Albert Nelson Marquis Lifetime Achievement Award.
The following is excerpted from the article at https://www.ucc.org/news_david_beebe_guillermo_bergado_ucc_national_staffers_in_1990s_are_mourned_03202020 :
Beebe: 'Endless knowledge of and love for the UCC'
Born Sept. 7, 1931, in Nady, Ark., David Lewis Beebe was a graduate of Gentry (Ark.) High School and Salem (W.Va.) University and held degrees from two UCC-related seminaries, Pacific School of Religion, Berkeley, Calif., and Lancaster (Pa.) Theological Seminary. He was ordained to the ministry in 1959.
He was a college professor and chaplain and a local church pastor before joining the Stewardship Council staff. After leaving that national ministry, he served for more than 20 years in interim pastoral positions with numerous churches in the UCC's Missouri Mid-South and Illinois South Conferences – most recently at Zion UCC, Union, Mo., which welcomed him in November 2018. He also held interim administrative positions with Missouri Mid-South and its Eastern Association.
Beebe was a longtime member of the UCC Historical Council, "where he was universally loved and admired by his peers," said the Rev. John Dorhauer, UCC general minister and president, who was a local church pastor in Missouri when he met Beebe. While serving on the Missouri Mid-South staff, Dorhauer continued to value Beebe's encouragement and wisdom.
"I admired him then for his love of the church, his theological brilliance and his seemingly endless knowledge of and love for the United Church of Christ and its rich history," Dorhauer said. "David has always been a friend, a mentor and teacher, a peer and colleague to me personally. He has always been a light to his churches, insisting on decency and hope in a world where intolerance, cruelty and despair were all too common. He was kind at all times."
"If the United Church of Christ could be embodied in one person, it would be David Beebe," said the Rev. Cynthia Bumb, vice-president of spiritual care at Emmaus Homes, St. Charles, Mo., in a Facebook post upon learning his death. "He WAS the UCC. Pastor, preacher, historian, poet, advocate, friend."
Beebe's recent health challenges included pancreatic cancer, which he announced in a Facebook post on Oct. 1, 2019. He is survived by two daughters and their children. He was preceded in death by his wife, Judy Corfitsen Beebe, who died of cancer more than 20 years ago, and by his twin brother, Paul. Beebe lived in Lake St. Louis, Mo., and was a member of St. John United Church of Christ, St. Charles, where a memorial service will be held on Sunday, March 29, at 3 p.m.
David was married to Judy Johanne Corfitsen Beebe on October 22, 1960, until her death on August 3, 1996. He leaves behind many loving friends and family, including his daughters Karen Elisa Beebe Broyles and Heather Marie Beebe, and his grandsons Kynan Ross Broyles and Rowan Anderson Broyles.
Funeral services for David Lewis Beebe are being temporarily delayed due to COVID-19 concerns. When a new date is available, it will be posted here.