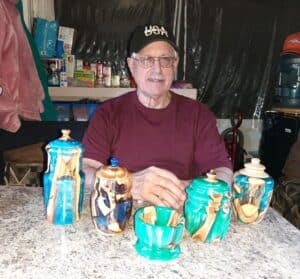 June 18th, 1945 – November 18th, 2022
We are sad to announce that Dennis Dale Mullinex (Denny) suddenly and peacefully passed away on 18 November 2022 in Fenton Missouri, he was 77 years old.  He is survived by his loving wife Yadira (Yadi), her son Rodolfo Mora his wife Andrea and their sons Rodolfo J. and Esteban from Costa Rica.
Denny was the oldest of 3 children and is survived by his sisters, Sandra and Cheryl. Denny has 3 children, Allen, Rachel and Ryan; 8 grandchildren, Alicia, Kevin, Tyler, Cody, Lindsey, Connor, Adelynn and Isaac; 1 great granddaughter, Raegan.
Denny was born on 18 June 1945 in South Dakota to Dale and Ruby Mullinex. He grew up on a farm in Shellsburg, Iowa where he graduated from Shellsburg High school.  He was then drafted into the Army in 1965 and served in Vietnam. After his honorable discharge he returned to farming but wanted to find his true calling.  Denny tried several jobs ranging from working in a meat packing plant (he never ate hot dogs after that) to selling insurance.  Then he tried his hand at construction and that is where he found his passion in life.  He began building houses in Iowa and then decided to move to Colorado. There, his talents bloomed as he built and designed custom homes, built custom cabinets and furniture.  The artistry of crafting anything from wood became a hallmark for anyone who knew him.  He moved back east to Missouri and settled in Fenton in 2001.  If you are lucky enough to have had something he made for you as a customer, friend or family member then you know his heart and soul was poured into it and it will remind you of him for many years but last for generations.
He was a loving father who passed his faith in God to his children instilling a strong sense of integrity as he always sought to do the right thing. Denny also passed his sense of humor and his work ethic to them through his advice, actions and story telling.  He love sports; he was athletic and excelled at everything he did, winning trophies in baseball, softball, golf, basketball and shooting pool.  He strived to teach his children and grandchildren how to play whenever he could and shared his love of sports with them.
Within minutes of meeting someone Denny would say something to make them laugh, he became friends with almost everyone he met. There will be a local memorial service for on December 2nd at 10:00 AM at the the American Legion Post 400 located at 2 Gravois Rd., Fenton, Missouri.  The family plans on a memorial service for family and friends in GrandLake Colorado during July, 2023.