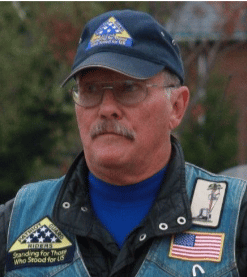 Dennis R. Eads 7/4/43 – 11/18/22
Denny passed away peacefully at 2:43 am on 11/18/22 surrounded by his family. Denny had a passion for the outdoors including landscaping his yard, camping, fishing, golfing and playing slow pitch softball for the "Green Team." He had a great love for music of all kinds and listened to some sort of music almost every day of his life.  Denny loved animals and you could tell by the way every dog he ever met was drawn to him.
Denny worked for Southwestern Bell for years as a Systems Technician and that is where he met the love of his life Darleen. Denny loved Darleen and his daughters so much. He doted on them any chance he had.
Denny was very involved in the Boy Scouts in his youth and the Cleveland High School Alumni Association, Patriot Guard and his FAB (Friends are Blessings) friend group for years until he became too ill to participate. His creativeness and willingness to go above and beyond in all aspects of life allowed him to grow in many lifelong friendships within these groups and beyond.
Denny was a true patriot, being born on the fourth of July, he loved his country and was a proud American. He was a SSGT in the Air National Guard of Missouri and the Reserve of the United States Air Force. He served as a Ride Captain for the Patriot Guard of Missouri and was involved in many volunteer opportunities while with the Patriot Guard. 
Denny was a humorous person and even on his dying day was joking around with his family and the hospital staff. "Showbusiness is my Life" was one of his taglines as he loved to make others laugh and smile.
He was preceded in death by his parents, Raymond and Josephine (Rodewalt) Eads, and Granddaughter, Sydney Grace Kahle. He is survived by his wife Darleen (Herr) Eads, and his daughters Angela Kahle (Shane Haddox) and Erin Eads and his grandsons Camden Kahle and Jase Kahle.
"If you don't like it, rewrite it." Denny Eads, November 17, 2022, several hours before his last breath.
In lieu of flowers, please consider donating to:
The Gary Sinise Foundation
St Jude Children's Hospital
Please join us for a Celebration of Denny's Life:
December 17 th at 11am (Memorial service)
Royale Orleans
2801 Telegraph Road
St Louis, MO 63129