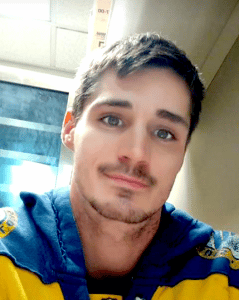 Derek Michael Mills, 33 years old, suddenly passed away on August 28, 2022 in Fenton, MO.
He was born on May 22, 1989 to Dennette Marie Mills and Richard Moran Mills of St. Louis, MO at Forest Park Hospital.
He was preceded in death by his older brother, Nicholas Richard Mills, his mother, Dennette Marie Mills and his father, Richard Moran Mills.
Derek is survived by his twin brother, Ryan David Mills of Wyatt, MO, his sisters, Destiny Drury and Deonna Drury, both of Sikeston, MO, his step-siblings Jason Tucker and Mandi Hettick and his step mother, Donna Mills, all of Imperial, MO, his grandmother, Carol Mills of Affton, MO, his amazing aunts and uncles, Maria and Rick Cipponeri of St. Louis, MO, Patti and John Beckman of Affton, MO, and many other friends and family who loved him deeply.
He worked as a cook at Applebee's for years before he began at Circle K as a cashier. He loved skateboarding, listening to music of all types and spending time with his family and friends.
A memorial service will be held in honor of his life, Monday, September the 5th 2022, 4:00 pm – 8:00 pm, 1215 Larkin Williams Road, Fenton, MO at pavilion #2.
Great is your love, reaching to the heavens; your faithfulness reaches to the sky Psalm 57:10