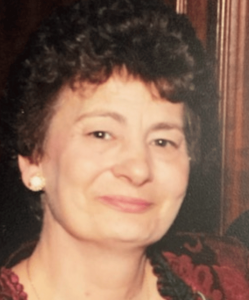 Evelyn Marie Cusumano, of High Ridge Missouri, went home to be with the Lord on  Wednesday, August 24th 2022 at the age of 74.
Evelyn was born on February 28, 1948 in St. Louis, MO to Arthur and Ruth Gorsuch. She married Frank Paul Cusumano on October 18, 1965, at the age of 17.
In 1973, she and Frank opened Cusumano's restaurant in Florissant, MO. After this, she  worked in a variety of food service and catering roles for many years. Evelyn's faithful  dedication to serving stayed with her throughout her life.
Those that knew Evelyn were very aware of her strong work ethic and dedication to her family. When she wasn't working, she spent time with her family, whom she loved wholeheartedly.  Evelyn was quick to help anyone in need if it was within her ability, and she cared for others  beyond measure. She also enjoyed crocheting blankets that were used as gifts for newborn  babies, grandchildren, and even Tenley's dolls.
Evelyn was preceded in death by her parents, Arthur and Ruth, her husband, Frank, five  siblings, Harvey, Arthur, Oscar, and Bill Gorsuch, Patsy Phelps, and one grandchild, Luke.
She is survived by her two sons, Dean (Michelle) Cusumano, Dan Cusumano, and her  Daughter, Deana (Chris) Hill. She leaves behind two sisters, Janet Lammert and Charlotte  Garofaro; three sisters-in-law, Sharon Gorsuch, Sheila Gorsuch and Grace (Pat) Moran, four brothers in law, Pete (Jenelle) Cusumano, Jim (Kathy) Cusumano, John (Bobbi) Cusumano,  grandchildren, Nikki (Andy)  Stockdell, Kayla, Cole, Caleb, Emmalee Cusumano and Christopher Hill; and great grand-children  Noah and Tenley Stockdell and many other family and friends.
Evelyn was selfless, full of life, and she will be dearly missed by all who knew her and continue  to love her.
She will continue on in our hearts and memories until we see her again in eternity.
Services will be held at The Crossing Church at
6000 West Geneva Drive, St. Peters, MO 63366 on Thursday, September 1st. Visitation: 2:00 – 3:30pm
Funeral services: 3:30 – 4:30pm.
Dinner will be provided following the services.