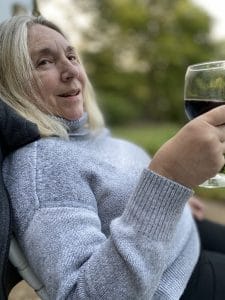 Gail Carol Dabler (nee Harper)
On Saturday, May 7, 2022, our mother, Gail Carol Dabler (nee Harper), born October 25, 1953, loving wife and mother of 3 children, peacefully and while holding the hand of her high school sweetheart, love of her life, and husband of over 45 years, passed on to the next part of the journey, in the home that she loved, where she raised her family, spoiled her grandchildren, and created her most cherished memories. She was surrounded by family and her faithful cats. She was 68.
Gail was preceded in death by her father, Robert, and her mother, Dorothy. She is survived by her husband Rhein, her three children Greg (Ashley), Nick (Heather), and Beth (John), her brothers Ken (Suzy) and Scott (Cindy), aunts, uncles, cousins, nieces, and nephews. Grandmother to 10: Austin (Kayla), Isabelle, Del, Oliver, Tucker, Tyson, Owen, Greta, Truman, and Holden. She had several pets in her life whom she loved dearly and leaves Mouse and Sheba who kept her warm during her final days.
Our dad has relentlessly and devotedly cared for her their entire relationship but also so lovingly these past 12 years as Alzheimer's Disease has slowly stollen her away from us. He never wavered to provide her everything that she needed, allowing her to be at home until the very end, and providing her a beautiful dignity that we know made living with this disease easier for her. His devotion to her care was as unconditional as his love for her.
While our heartache at her loss is crippling at times, we are grateful and comforted knowing that her mind and body are at peace, and she has been released from the symptoms of dementia.
We will miss her warmth, compassion, and comforting nature, her soft kisses, and loving hugs. We will miss her talents in the kitchen, especially her famous chocolate chip cookies. She loved the closeness of our family. She loved us all, intensely, and never let us go without knowing that. She was a central part of all of our family gatherings, and she will remain that way when we reminisce on the many wonderful memories we have created with her over the years.
She was a caring selfless nurse who put her whole heart into providing for the needs of her patients in the hospital or for her students when she was a school nurse. She also extended that compassion to all creatures great and small through her love of animals and nature. She loved the many furry critters that lived in her home over the years.
Her second home was Green Mountain Falls, Colorado. The majesty of Colorado called to her every summer where she could bask in the glory of things like the greatness of Pikes Peak and the small intricate beauty of the red throated hummingbirds.
She loved her church family and singing her praises to God in the choir with the beautiful voice God bestowed on her. We know she is singing joyously with a new choir.
We are so appreciative for the outpouring of love and support we have received upon her passing and want you to know that Gail and we love each and every one of you. You all are a cherished part of our lives and hers.
Gail's memorial will be held at First Presbyterian Church in Kirkwood at 11 AM on Saturday, May 21st, 2022.