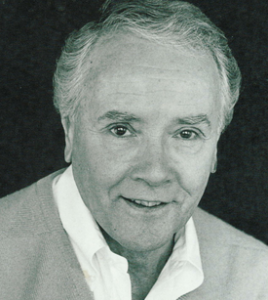 Don was born October 24, 1923 in Greely, Colorado. Son of the late Carrie Elser Garner and Robert Lee Garner. Attended Gardena High School in Gardena, CA and Los Angeles City College.
While attending City College, the film industry recognized his exceptional talent and signed him to a movie contract. Don appeared in 37 motion pictures including: My Darling Clementine with Henry Fonda, Captain Eddie with Fred McMurray, Law and Order with Ronald Reagan, Lady With A Passport with Hedy Lamar, and Command Decision with Clark Gable.
He also appeared in early network television—notably I Love Lucy, Father Knows Best, The Ray Milland Show and CBS Omnibus.

During the Korean War, he traveled with actor Raymond Burr in a USO tour in the Far East. Before coming to Fontbonne College (now Fontbonne University) in St. Louis, Don served as Executive Assistant to Jose Quintero (one of Broadway's outstanding theatre directors) at Circle In The Square. He served as production stage manager and played the leading role in Thornton Wilder's Plays for Bleeker Street, Tennessee Williams' Camino Real, and a principal role in Elia Kazan's production of Archibald MacLeish's prize-winning play, J.B.
Prior to his Broadway experiences, Don was actor, director and co-producer during a seven-year Association with Dr. Madge Skelly who was producer at the famous Ramsdell Opera House in Manistee, Michigan.
In 1965 Don signed a one-year contract as artist-in-residence at Fontbonne College in St. Louis, MO. He assumed the position of Director of the Department of Theatre and served in that role for twenty years. Included in his position as Director of Theatre Don also taught, co-produced and appeared in numerous productions with the theater students. One of his endearing roles was as BoBo, the clown, in the Summer Theatre for Children.
He also guest-directed in Salt Lake City, Los Angeles, Southeast MO State University, and Stephens College in Columbia, MO.
In 2001 he received a Fontbonne Founders Award for Distinguished Service in theatre and Education. Don retired as Professor Emeritus in1985.
In tribute to their college theatre professor and friend, two of Don's former students had this to say: "Once in a young person's lifetime, if they are lucky, they happen upon another human being who alters their artistic perception of the world forever and who enriches them beyond measure in shades too brilliant for words to pursue…we asked the most influential teacher in our lives to play the role of Henry in our production of Fantastiks in Los Angeles. He packed his bags and left his life back in St. Louis to join us on this unique theatre adventure."
Don is survived by his partner of forty-four years, Russell McMahan, and his two brothers, Robert E Garner of Diablo, CA and John N. (Jack) Garner of Oceanside, CA. Don's sisters, Madelyn Garner Crippin and Helen Margaret Garner Cordts, as well as his parents Robert Lee Garner and Carrie Elser Garner, preceded him in death.
A memorial service will be held at a later date.