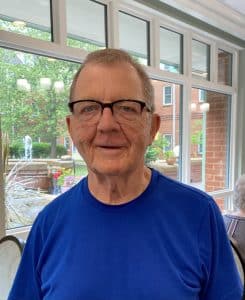 On August 16, 2022, James Charles Thomasson went home.  He was met at the door by his grandparents, parents, James A. and Marcella B. Thomasson (Chapis) and his wife Myra I. Thomasson (Kinon).  They will be assisting him in readying the rooms for those who will follow when it is their time.  
Jim was born on May 25, 1944, in St. Louis, MO.  The son of a plumber and housewife was a lifelong Cardinal fan.  The oldest of 6, Jim graduated from SLUH in 1962 and SLU in 1966.  He enlisted in the Naval Reserves where he served 25 years, retiring as a Chief Petty Officer.   He was a husband, father, grandfather, teacher, restaurant manager, golfer, traveler and liver of life.  He loved his family dearly and was dearly loved by them.  
He is survived by his siblings Dave, Bob, Jane, Paul and Pat, as well as his children Cathy, Jim, Joe and their families. 
Services will be held at Holy Redeemer Catholic Church, 17 Joy Avenue, Webster Groves, MO on September 9, 2022.  Visitation at 10 am, service at 11.