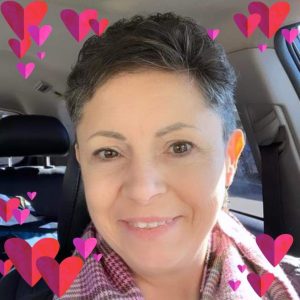 Jeri Denise Stone-Trammel age 58 was born in Anna, IL on June 17th 1964 to Violet Faye Pelvin-Shaw. Jeri was a loving soul who would give anyone the world if she could. She enjoyed being outdoors in the garden, fishing, camping and concerts. Jeri loved the Rolling Stones. She also loved making beautiful memories with her children and grandchildren. 
 Jeri was a very independent woman. She attended beauty school. As she worked many hours in a salon she went to Lewis & Clark Community College for Dental Hygiene. She used this degree to serve our soldiers, 1st at Fort Riley in Kansas, she then transferred to Fort Leonard Wood in Waynesville, Mo.
Jeri departed this life on September 19, 2022. She is proceeded in death by her mother Violet Faye Shaw, grandmother Kathryn Genevieve Vincent-Pelvin, great grandmother Anna Kimmel-Vincent & great uncle Harry Vincent who was like a father to Jeri. 
She leaves behind to cherish in her memories 4 children and 1 bonus daughter-Cathrine Trammel, Crystal Thorne (Doyle Thorne), Andrew Trammel III, Jarrod Trammel & Tori Alexander, her loving partner Jim Brand, 12 grandchildren- Jacob Trammel, Mark Bartusch III, Carlito Merced, Andrew Trammel IV, Nikko Merced, Austin Trammel, Jeriann Holtz, Adrien Trammel, Alex Trammel, Isaic Trammel, Aubrie Thorne, Xavier Thorne, 1 sister- Dawn Shaw, 2 niece's & 1 nephew- Cathryn Griggs, Caryn Cooper, Thomas Cooper, 1 great aunt- Sharron Qualls, 1 great uncle George Vincent Sr, many more cousins, family and friends.