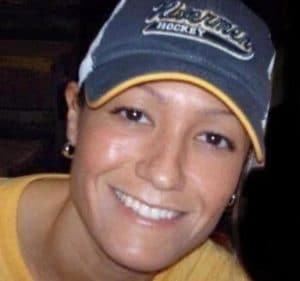 Karen "Kay" Naomi King, 48, passed away on May 13, 2022 in St Louis, MO surrounded by loved ones.
Kay was born in Fort Bragg, N.C. on February 13, 1974 to Thomas King of Peoria, IL and Ana Cecilia Dumbar of Colon, Panama. Eventually, her family would put roots down in Peoria where she would grow up with cousins, family, and lots of friends.
Those who knew her will remember Kay for her humility, kindness, witty sense of humor, and eternal smile. She had a special love for music, singing, the beach, hockey (especially the Peoria Rivermen and the St Louis Blues), and hanging out with her family and friends. She was a proud TSA employee and someone who could pinpoint the absurdity of every situation with a snappy wisecrack right up until the end. Kay never met a stranger and she handled any obstacle that came her way in life with wit and grace. She was a literal light in so many of our lives.
Kay was preceded in death by her grandparents and best friend, Mia, her beloved Great Dane. She is survived by her brother: David King; sister: Karen Dumbar (Aaron Jahil); nieces: Jacqueline King and Khadijha Jahil; and nephews: Colton King and Ibrahim Jahil. In lieu of flowers, donations can be made in her honor to the Children's Home Association of Illinois. 
A Memorial Service is scheduled for Saturday, May 28, 2022 from 1:00-3:00 PM, at St. Louis Cremation, 2135 Chouteau Ave, St. Louis 63103.