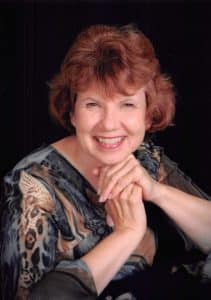 Laurie Gaye Furgerson (nee Anderson) of Saint Louis (68) went home to heaven on Friday, August 19, 2022, after a long hard 11-year battle against a rare disease, cortalbasal degenerative ganglion. She joins her late parents George and Vyola Anderson and older brother Gary Anderson in heaven. She is survived by life-long friend, and more recently partner, Wayne Wilcoxen, son Matthew Furgerson, step-children Jessica (Mike) Walsh and Daniel Wilcoxen, grandchildren Claire and Norah Furgerson and Lucy Walsh, sister-in-law Beth Anderson, and mother-in-law Eva Wilcoxen. Laurie was of Swedish descent and was a loving devoted mother, partner, "Mimi", cousin, and friend to many. Laurie was a kind, sweet, loving, classy lady who loved to laugh and make memories with those she loved. She will be greatly missed.  
Anyone that knew Laurie knew that one of her many skills was being organized and having a sharp attention to detail, which led to her long successful career as a legal assistant for 42 years with Lewis Rice. When she wasn't preparing important documents for work, she was using those same skills to create special art projects for loved ones. She was exceptionally crafty (and handy!) and loved to host loved ones, which made her a go-to person to help organize and plan parties and events. She was always the life of any party.
St. Louis, Missouri, was where Laurie called home all of her life. She enjoyed much of what the city has to offer such as Cardinals baseball, Ted Drewes, Missouri Botanical Garden, the Butterfly House, Six Flags, live performances at the Fox, Powell Hall, the Muny; and loved watching her grandkids enjoy the Magic House, Grant's Farm, and the St. Louis Zoo.
Even while working full time, Laurie was not just a car-pool mom. She participated in Matt's life – supporting his rise through Boy Scouts to achieve the rank of Eagle Scout; and performing in the plays that raised funds for his Lutheran elementary school.  
The Methodist Church has always been a large part of Laurie's life. She was active in her youth group and as a teen joined a special singing group called "The Seekers." This is where Laurie would form some of her closest friendships and create life-long cherished memories. Laurie organized and led several week-long mission trips to United Methodist agencies in Louisiana and Kentucky. She has even been known to make a costume and dress up as the Easter Bunny!
A celebration of life luncheon will be held 11 am – 2 pm, Saturday, October 1, 2022, at Webster United Methodist, 600 N Bompart Ave, Webster Groves, MO  63119.  Interment will be at Oak Hill Cemetery with immediate family. Memorials may be given to St. Jude Children's Research Hospital.