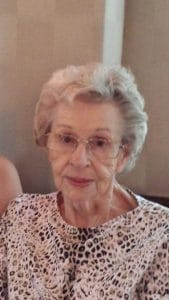 Lorene DePauw passed peacefully the morning of June 14, 2022 in St. Louis, MO. She was born on April 13,1937 to the late Otto and Lillie Bartel (Mitchell). Lorene spent her youth in Owensville, MO with 4 siblings. Her only sister Helen LaValle in Union, MO, brother Raymond Bartel and sister-in-law Jean in Owensville, MO preceded her in death. She is survived by her older brother Harold Bartel living in Marietta, GA and younger brother Jerry Bartel in Jefferson City, MO as well as brother-in-law Dean LaValle of Union, MO. Lorene is also survived by her beloved daughters, Allison Pyatt married to Steve, and Kelly Sommer, both in St. Louis, MO, and grandchildren Andrew Sommer married to Crystal Whitney living in Elbridge, NY, and Eric Sommer married to Danica in Wichita, KS. She also leaves many loved cousins, nephews and nieces.
Lorene was a loving mother and grandmother that always put the needs of her family ahead of her own. She took on the responsibility of nurturing her younger brothers and helping her mother when she was only 10 years old and put others ahead of herself throughout her life. She thoroughly enjoyed every aspect of life and taught her daughters to do the same. She leaves many memories of exciting trips and excursions in the minds of her kids and grandkids as well as her brothers. Lorene hosted many memorable family holidays and get-togethers.
She worked for McDonnell Douglas and later EDS (Boeing) while living in North St Louis, Lake St Louis and Hazelwood.
Lorene grew up in an automotive family and was an avid NASCAR follower. Not only following every race but knowing all the details of the cars and their design. She enjoyed monitoring the pit crew operations through a live computer connection where she could tune in on the Pit conversations.
Lorene was independent and a talented do-it-yourselfer and enjoyed building furniture and other things,  refinishing furniture and floors and general around the house repairs and upkeep. She enjoyed and could identify every bird coming to her bird feeder as well as most trees and plants.
Lorene's wishes were to be cremated and no services. Please celebrate your memory of her kindness, friendship, loyalty, dedication, spunkiness and love in your own unique way.