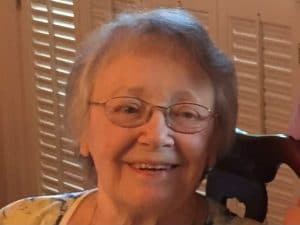 Marlene Evans, age 85, passed away peacefully on November 17, 2021 in the comfort of her Chesterfield home surrounded by family.
She was born to Phil and Ruth Padratzik on August 9th, 1936 in St. Louis, MO. She graduated from Soldan High School in 1954. She married Tom Evans on December 27, 1958 and raised four children: Debbie, Laurie, Brent and Tom Jr.
Her family paid this tribute to her, "Marlene was one of the kindest people you could ever meet. She opened her heart and home to many people over the years, and she will be dearly missed."
Marlene was preceded in death by her parents Phil and Ruth and her brother Howard.
Marlene is survived by her husband Tom of 62 years. Her 4 children(spouses), Debbie(Jim) Cochran, Laurie(Rod) Schoenecker, Brent(Patti) Evans, and Tom Jr(Sue) Evans. Her 9 grandchildren, Molly Fivian, Tom Evans III, Josh Halsey, Jenna Hollrah, Tyler Evans, Alec Schoenecker, Paige Johnson, MacKenzie Evans and Eric Schoenecker, and also her 13 great grandchildren.
A service to honor Marlene will be held at The Crossing at Chesterfield (114 N Eatherton Road, Chesterfield, MO) on Saturday, November 20th at 1pm in the Loft. The family invites you to join with us at Jim & Debbie Cochran's (2215 Kehrsglen Ct, Chesterfield). Come at your convenience between 3:00 and 7:00.
A page has been set up on the Charcot-Marie-Tooth (CMT) research foundation website for Marlene. Anyone wishing to honor her in this way can use the link below.