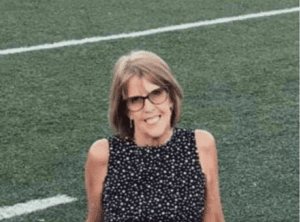 Mary Sue (Higginbotham) Byler, age 70, beloved wife of Larry Byler died peacefully on Saturday, September 10, 2022, at Mercy hospital. Sue was born on June 10, 1952, in St. Louis, MO, daughter of the Late Bernard and Dorothy (Duly) Higginbotham. Sue grew up in Brentwood, MO. Graduated from Brentwood High School 1971. She met and married the love of her life, Larry on March 18, 1972 and together they moved to Union, MO in where they owned and operated 47 Mini Market.
She worked as a customer service representative for different companies, the most recent working for her friend Lyn Havin at Havin material. She enjoyed thrift shopping especially garage sales, planting flowers, traveling, and most of all spending time with friends and family. She was a member of the Union Fire Department Ladies Auxiliary, and the Immaculate Conception Catholic Church in Union.
Sue is survived by her loving husband, Larry Byler, treasured sister to Barb Novotny, Pat (Ron) Foan, devoted mother of Shawn (David) Pehle of (Union, MO), Jeremy (Adriah) Byler of (Union, MO), Jennifer (Harry) Frost of Union, MO; and loving grandmother of Vanessa Pehle, Cameron (Karlie) Frost of Gerald, MO, Brad Frost of Union, MO; and many bonus kids who grew up at her house, sister-n-law to Susan Hertel (Virgl), June (Mike) Ronsick, Terry Byler, Becky (Keith) Bauer, Debby (Bill) Talarski. Aunt to Tanya (Jim) Shaughnessy, Sara Oliver, Sherry (Rudy) Via, Elizabeth (Fred) Hodgman, Bob Hertel, Rick (Christine) Hertel, Christopher (Stefanie) Talarski, Matthew Talarski. And great nieces and nephews. Special friends Tom and Bridgett Stahlman, and many many other family and friends. Sue, known as Momma Sue was a very gracious, loving, and generous soul who always had a smile on her face, she befriended everyone. But above all, her great love was her family and friends, Momma Sue was dearly loved and will be greatly missed by all who knew her.
Sue had a very fulfilling life, enhanced by the people she's leaving behind…If you knew her, you knew she loved absolutely everyone, she saw goodness in everyone, and a devoted Christian who served her community and supported her church. She was someone who enjoyed every minute she had with you. I know she was so very proud of all her children and grandchildren.
In lieu of flowers the family request that memorial contributions be made to Franklin County Humane Society or the family in memory of Momma Sue.
A memorial service will be held on October 29th 1:00-6:00 at the American Legion Hall in Union Mo. Mary Sue Byler June 10, 1952 – September 10, 2022