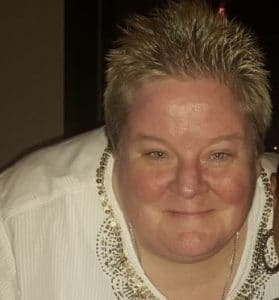 Our family said goodbye to this beautiful, big-hearted soul this past weekend. Mary Therese Harrington died peacefully with family by her side on Saturday, June 18, 2022.
Mary loved large. She was a sensitive, opinionated, compassionate, strong, and fiercely independent woman. She felt all things deeply. Her beautiful, piercing blue eyes observed and perceived more than we always understood. Mary could call you out and love you big in one conversation.
She loved her nieces, Alexandria, Lola, Madison, Olivia and nephew, Jack, unconditionally. They were a source of constant joy for her. One of Mary's favorite pastimes was figuring out what to buy them for birthdays and Christmas which of course always included a little candy. Mary always had an open heart and smile for any child in need. Nothing pleased her more than showering children with attention and small gifts.
Mary loved to laugh and loved being with her friends. If you were having a holiday party, you could count on Mary to show up with a hat for the occasion and a pie from Tippins.
Our family is grateful that in her last week of life, she was surrounded by family and friends. A text I received said it well, "To know Mary is to love her larger than life personality, her uber generous heart, her hearty belly chuckles, and her strong views on life and people."
Mary is the loving sister to the late Jonathan Harrington and Stephen H. (Tammy) Harrington; beloved daughter of Barbara (Harting) Harrington and the late Martin E. Harrington; dear aunt of Alexandria, Jack, Lola, Madison, Olivia and the late Patrick M. Harrington; and dear cousin, niece, sister-in-law, and friend to many.
Mary graduated high school from Mercy High School class of 1985 and attended St. Louis Community College and graduated with an Associate of Arts Degree going on to work with children and adults with disabilities.
The family wishes to extend special thanks to Missouri Baptist Medical Center, the doctors, nurses and hospice team for their excellent care; Experienced In-Home Care & Assistance with special thanks to Jada, Brittany & Alexia, for their support of Mary. We would also like to take a moment to thank the many friends especially, Angela, who have stepped in over these last few years and given Mary love and extra help when needed.
Goodbye, my friend. We love you.
Services: A memorial and celebration of life will take place Sunday, June 26th, 1pm-3pm, at Shepard Funeral Chapel, 9255 Natural Bridge Road,  at I-170 | St. Louis, MO 63134. Service will begin at 1pm followed by a reception.
 Memorials: In lieu of flowers, please donate to St. Louis Arc – Empowering People with Disabilities, 1177 N. Warson Road, St. Louis, Missouri 63132 (314-569-2211) on Mary's behalf.