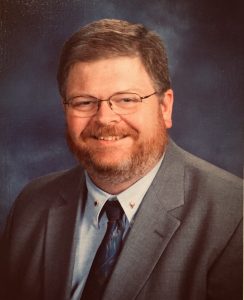 On Monday Aug 24, 2020 Matthew Joseph Leake, son of Wm. Alan and Helen E. Leake, passed away from Covid-19 related complications at the age of 60. Born June 27, 1960, Matt is survived by his sisters, Jane (Luft) & Amy (Ramos) and his brothers Gregory, Timothy & Michael. He is lovingly remembered by his brother and sister in-laws, nieces, nephews, aunts, cousins and close friends.
Matt was a past member of the Holy Trinity Choir and St. Ferdinand Shrine Choir. He was a previous member of the St. Louis Cathedral Archdiocesan Choir when they performed at the Vatican. Matt was a Fourth Degree Knight in the St. Ann Council of The Knights of Columbus. He also loved being a jolly Santa Claus for many children over 30 years.
A private family service will be held on Sept 26, 10 AM, at Our Lady of the Presentation Church in Overland, MO. Matt will be interred at Sts. Peter & Paul Cemetery on Gravois Road immediately after the church service.
A memorial Mass for extended family and friends to celebrate his life will be scheduled sometime after the risk of Covid-19 has subsided.
Memorial donations may be made to the American Cancer Society.
or Checks made payable to: the Knights of Columbus St. Ann Council #3977, Mailing address: Larry Parent, Financial Secretary, 10824 Cavan Drive, St. Ann, MO 63074