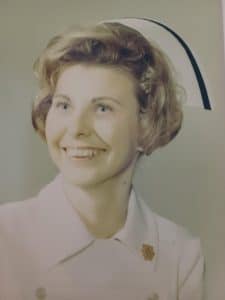 Maureen Mae Burns Niedt passed away on August 31, 2022 on hospice at her daughter's home in St. Louis, MO. Maureen was born on July 1, 1936 in Newport, Rhode Island. 
She put herself through nursing school at Meramec Community College eventually receiving her BSN from Webster University. She loved nursing and after nearly 30 years, she retired from Barnes Jewish Hospital.
Mom was an avid cat lover and well-known in Lafayette Square as the Cat Lady. She was always given the gift of stray kitties that she would take care of, i.e. shots, spay/neuter, provide food, water and lots of love. Eventually she went on to help with the cat adoptions at PetsMart in Sunset Hills which included blessing roughly 8 kitties a home with her. 
Mom was preceded by her husband Greg and she leaves behind three kids; Robert, Colleen and Brian; a grandchild, Sean, his wife, Megan and her first great grandchild, Lennox.  
Mom's memorial will be on Monday, 9/12 from 10:30 am – 1:30 pm at St. Louis Cremation with a small memorial ceremony at Jefferson Barracks at 2:15 pm.
In lieu of flowers, please make a donation to one or both of her favorite charities: St. Louis Pet Rescue and Humane Society of Missouri.