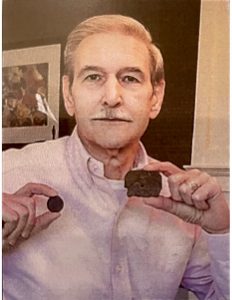 Michael R Kozuszek died peacefully on August 30th, 2022 after enduring a battle with stomach cancer.
Mike was born on October 16th, 1947 in Jennings, Missouri. He was preceded in death by his father Michael B and his mother Clara (nee Pelczynski), his brother James P and Ronald. He is survived by his wife of 47 years, Joy Ann (nee Kaminski).
Survived by two sisters, Geraldine Liszewski (John) and his twin sister, Madeline Hoffman (David, deceased). He is also survived by his brother in laws, Joe Kaminski (Debbie) and Jim Robertson (Janice, deceased). Mike had eleven nieces and nephews, Laura (Bob) Ryterski, Dana Hoffman, Kim (Greg) Pendleton, Ron (Sheryl) Robertson, Chris and Doug Waltman, Juliet Cresta, Emily (Joe) Oliver, Joseph Kaminski, Anna (JJ) Eyermann, Sarah (Kevin) Butler and Rachael Kaminski (deceased). Mike was also a great uncle to twenty and a great -great uncle to three. Mike aka Uncle Mickey, will always be remembered by his nieces and nephews by his famous "stomach claw" and his hot pink shirt, which he only wore once a year at Christmas time.
Mike attended Divine Word Seminary High School in Perrysburg, OH and Divine Word College in Epworth, IA. He served in the Marine Corps Reserve from 1969-1975, was awarded a bachelor's degree in urban affairs in 1975 from St. Louis University and a master's degree in criminal justice in 1976 from Webster University. He worked for 39 years in law enforcement, this included 3 years with Jennings Police Department, 9 years with St. Louis County Police Dept, and 27 years with Maryland Heights Police Dept, where he retired in October 2012. He had attained the rank of major and was the Deputy Chief of Police at the time of his retirement.
Mike was a proud marine, a proud police officer, he loved our country and its history. He enjoyed church picnics, chicken and beef dinners and he loved his Vegas vacations!!!
We want to thank our primary care doctor and friend, Dr. David Shaw who walked closely with Mike through many difficult times over 20+ years. He referred us to Unity Hospice and we thank them for exceeding our expectations during a time such as this.
There will be no memorial service at this time, anyone wanting to remember Mike can do so through a Mass or donation to Backstoppers which would be greatly appreciated.