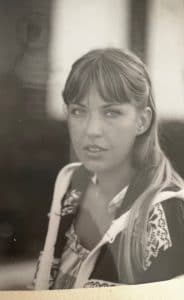 Andres, Nancy C (11/19/1949 – 4/30/2022)
Daughter, Wife, Mother, Grandmother and Friend. Nancy was preceded in death by her parents, Arnold and Jacqueline Andres, and younger sister, Michelle Andres. Survived by her husband, Danny Simmons; children Brian (Stephanie) Simmons and Shannon Simmons (Daniel); and grandchildren, Kyren (Brandi) Simmons, Zaelyn Simmons, Jazelyn Simmons, Aspen Simmons, and Riley Simmons.
Nancy loved fiercely and would be your strongest supporter. She was a fighter, but not in the typical sense of the word. Nancy fought with kindness, peace, and love. Her advice "Just out nice them" or "Nice it out of them" when we came to her with interpersonal issues, whether with each other, friends, or at school and work. Nancy fought passionately for her family and those she loved. She was not a perfect human, but she fought to be perfectly what each of us needed. She will forever be the wind beneath our wings.
During her last physical moments, she fought like the world's fiercest warrior to stay here for family, for us to have more time with her. Nancy was a beautifully imperfect human that we loved beyond any boundary that language could describe. Selfishly, we will miss her beyond any measure, but we are solemnly grateful that she is no longer suffering.
She loved photography, art, her plants, and nature's beauty. She dreamed of living peacefully on a warm, sunny beach surrounded by her family, bright blue water, the lull of waves, and cool breezes. Her faith in God, and that she would be reunited with her loved ones, gave her solace as she battled her illnesses. Nancy loved and was so proud of her children and grandchildren; and would shout it from the mountaintops for all to hear. 
(Mom-I used a Thesaurus more than 25 times writing my additions to this. ~ S) 
Her memory lives on through the seedlings of love that she planted in each and every person that she encountered. Ultimately, her greatest gift to us was her time and infinite kindness. To know her was an honor of the highest order.
No formal memorial is planned, as immediate family will gather together later to celebrate her. In lieu of flowers, please feel free to donate to NAMI (National Alliance on Mental Illness) in her name.