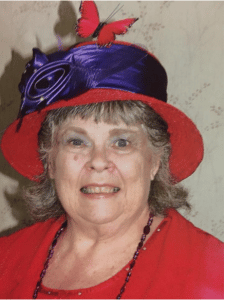 Patricia Ann DiBello (nee Banks) born on November 14, 1942 in Elmira, New York to Janice and
Franklyn Banks passed peacefully on the morning of Thursday September 8, 2022 surrounded by her children with her favorite spiritual songs playing in the background.
Patricia worked in medical records for several hospital facilities through the years. She really enjoyed working with patients and made lifelong friendships with her coworkers
She married Patrick Joseph DiBello on September 4, 1965 in Cleveland Ohio and started a family.
They moved several times to Urbandale, Iowa, Des Moines Iowa and St. Louis, Missouri. After Patrick and Patricia divorced, they maintained contact through the years.
Patricia, (Patty) loved family get-togethers, especially around her children, their spouses,
grandchildren and friends. She loved her cat Belle and enjoyed her many puzzles that she often
would glue together to give as gifts. She was very artistic and creative, whether it was painting,
ceramics or creating flower arrangements for her children's weddings. She had a flair for drama. She loved to travel and explore various areas.
Patricia was preceded in death by her mother Janice Banks (Presher) and father Franklyn Banks.
She is survived by her daughters Traci Vanek (John Vanek) , Andrea DiBello, mom's most faithful
caregiver (Nancy Roads), and her sons, Paul DiBello (Kasi) and Tom DiBello. She leaves behind her
grandchildren: Katie, Izzy, Andrew, Blake, Lillian, Megan, Frank, Emily and Molly, as well as her
friends, Patrick and Cathy. She also leaves behind her sister, Phyllis Reveglia (Richard), Donna
Preader and brother, Tom Banks (Rhonda), sister-in-law, Angela Gilleland as well as nieces,
nephews, cousins and many friends.
Mom expressed firmly that her spirit will be revealed by the unexpected flowers given or found in the most random of circumstances.
The family would like to thank the caregivers at First Light Home Care and Accent Care Hospice.
A Celebration of Life will be held on Saturday September 17, 2022 from Noon – 2:00 pm at Holy
Angels II in the Community Room. All who loved her are welcome to join us as we remember Patty
and the memories she gave us.
November 14, 1942 – September 8, 2022