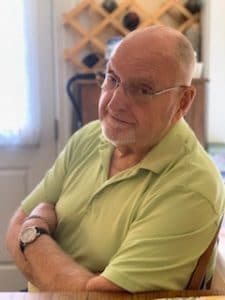 Paul Ryder Walter, Sr. died with his family by his side on November 14, 2021, at St. Luke's Hospital, Chesterfield, Missouri, after a brief battle with COVID pneumonia. He was born in Ordway, Colorado, on July 22, 1937, the third of four children of the Rev. Victor Edson and Mabel Skogsberg Walter, who had recently returned to the U.S. after serving as missionaries in Africa.   At age 12, he committed his life to Christian ministry during an altar call at a Methodist church camp.  According to Paul, he immediately regretted his decision, and spent the next 25 years running from the Lord.
After attending High School in Colorado, Paul enrolled at Yale University, where he directed a popular men's singing group and majored in History.  After his graduation in 1959 he began his career on Wall Street as the Irving Trust Company's youngest investment banker. Paul met his future wife, Dr. Susan Goddard DVM, while singing in New York's Collegiate Chorale.  They were married in Mineola, Long Island, on February 3, 1962.
Family and profession developed side by side as Paul continued his business career in Denver and Connecticut while he and Sue produced three children.  In 1971, the family moved to Tehran, Iran, where Paul continued his entrepreneurial efforts. Tragedy struck in 1972, when their youngest son, Paul, Jr., died suddenly at the age of three.  Paul sensed God drawing him back to his childhood commitment to ministry, and he answered, "Yes" for the second time, this time without regrets.  Pursuing this new vision, the family relocated to England, where Paul completed a Masters of Theology at Oxford University. Before leaving Iran, the Walters had adopted their fourth child, Peter Behzad Walter.
The Walter family returned to the U.S. in 1978, and Paul became the Executive Director of the South American Missionary Society of the Episcopal Church and later founded the Episcopal World Mission (now Global Teams).  While traveling and speaking extensively for his mission agencies Paul earned a Doctorate of Missiology from Chicago's Trinity Evangelical Divinity School.  He was ordained to the deaconate in the Episcopal Diocese of Western North Carolina in 1989 and ordained to the priesthood in the Diocese of Eau Claire, Wisconsin, in 1991.  Paul went on to serve parishes in Wisconsin and Missouri, and in 2004 he planted the Anglican Church of the Resurrection in Chesterfield, Missouri, where he served until his retirement in 2012.  Paul and Sue shared a lifelong love of music and choral singing, which led them to join the choir at St. Paul's Lutheran Church of Des Peres, Missouri, their current faith community.
Paul is survived by his wife and beloved companion of 59 years, Susan; three children, Carolyn, Matthew and Peter; ten grandchildren, Paul, Victoria, Stephanie, Thomas, Joshua, Christopher, Clara, Philip, Matthew and Elijah; and his brother George.
Contributions in Paul's memory can be made to St. Paul's Lutheran Church, Des Peres, Missouri or to the Anglican Church of the Resurrection, Chesterfield, MO.