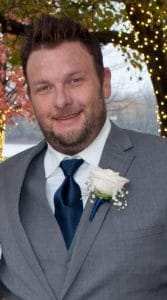 Richard "Ricky" Schroeder of Warrenton, MO passed away at the age of 36 on November 26, 2021. He was preceded in death by his mother, Colleen (née McGough) Schroeder.
Ricky is survived by his children, Landon, Elizabeth, Carter, and Hinsley; his father, Richard G. Schroeder; his siblings, Sarah (Mike) Huddleston and Caitlyn (Mark) Schepker; and his dear friend, Abby.
Ricky was known for his huge heart and his endless love for his family, always cherishing the time they spent together and the memories they made over the years. He was selfless, compassionate, and the sort of man who wouldn't hesitate to give someone the shirt off his back if they needed it.
For fun, Ricky was fond of spending his time outdoors and going camping or fishing with friends and loved ones. He loved to get out and spend a day on the golf course. His grilling skills were legendary – he was known to be out there cooking even during a snowstorm. The holidays were Ricky's favorite time of the year and he never missed a chance to go all out in decorating just like Clark Griswold. He will be dearly missed by all who knew and loved him.
In lieu of flowers, memorial contributions in Ricky's name may be made to Boys and Girls Clubs of America.
A Memorial Mass will be held on Tuesday, December 7th at 10:00 am at Holy Rosary Catholic Church in Warrenton, MO – 724 E Main St, Warrenton, MO 63383.