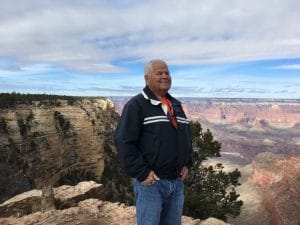 Ronald Landa, 77, of St. Louis, MO passed away on Thursday, November 18, 2021 after a lengthy battle with dementia. Ron was born the youngest of eight siblings on May 27, 1944 to Czech immigrants Frank Landa and Rose (Simek) Landa in St. Louis, MO. It was during his high school days in 1960 that he met the love of his life and future wife, Elizabeth Barron. After graduating from McKinley High School in 1962, he joined the United States Marine Corp (Reserves) and achieved the rank of Sergeant. Ron joined the St. Louis Metropolitan Police Department in 1967. During his 28-year career in the police department, he held a wide range of positions including patrolman, mounted patrolman, narcotics agent and detective. While he was very proud of his career and his service to St. Louis, he truly cherished the life-long friendships he made on the force.  Ron retired from the police department in 1995.
Ron and Elizabeth wed in November of 1966 and went on to have three boys, twins Keith and Darren (1969) and Patrick (1973). Ron was a devoted husband and proud father until the end, never missing an opportunity to profess his love for Elizabeth or his pride in his sons. He loved Elizabeth so much, he married her twice, again in 2004.
When Ron retired from the police force, he was able to dedicate more time to hobbies that he truly enjoyed and was gifted at. Ron had a very artistic side and relished spending time in the garage/basement creating stained glass window masterpieces and finished carpentry work. His work can be found in not only his own house, but his three boys, siblings, in-laws and friends. While he could have certainly charged for his work, he did it out of love of the craft and for those he created the pieces.
Ron was very proud to have served in the USMC and during his retirement years, he joined the Marine Corp League, detachment 183 in South St. Louis. Here, he formed long lasting friendships with fellow marines. Ron served in several leadership roles in the Marine Corp League, including commandant from 2010-2012. His pride and legacy of the Marine Corp League, however, was serving on the honor guard at Jefferson Barracks, providing over 1,200 servicemen with the hero's sendoff they deserved. And he looked good in his dress blues!
Ronald was predeceased by his parents Frank and Rose, his siblings Frank, Al, Chuck, Ed, Rose (Hilla), Emily (Kaune) and Shirly (Sutphen). He is survived by his spouse Elizabeth; his children Keith, Darren and Patrick; and grandchildren Claire and Lorelai.
A celebration of life will be held at a future date.