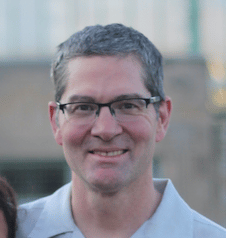 Scott Robert Whiteaker, 52, took flight on June 18, as morning light streamed through the windows, birds called to him from the back deck, and he flew like a swallowtail to the heavens on the most glorious, temperate morning of the season in Kirkwood, Missouri.
Scott was born on April 26, 1970 in St. Louis to Robert and Carol Whiteaker. After graduating from McCluer North High School in 1988, he went on to study and then graduate from Southeast Missouri State University in 1993. A soccer phenom, Scott made quite a name for himself at college. He was easy to spot, his soccer mullet sailing behind him as he raced for the ball. Andre Agassi had nothing on Scott.
Just weeks before his college graduation, Scott traveled to Florida with friends for spring break. While lounging at the hotel pool, he met a man who worked for Diamond Exteriors in Kansas City. Before he left the pool, Scott had used his unsurpassable communication skills to land a job and spark an illustrious career.
Two years later, a college friend encouraged him to apply for a job with Reynolds and Reynolds, a computer services company for auto retailers. He was hired at Reynolds just two days before his 25th birthday, and that commitment never lapsed. Always dedicated to his job, it was not uncommon for Scott to arrive in dealerships with homemade gooey butter cake or brownies for his clients. He had a continuous stash of blank thank you cards in his office desk drawer because he firmly believed that nothing exceeded the power of a personal connection. Everyone who interacted with him loved him. His gentle, affable nature and genuine smile could melt the coldest of hearts. Over the span of 27 years, Scott progressed from customer service to instruction to project management and consulting, and eventually to the role of customer services success manager. His first sick day with the company was for a surgery and biopsy after discovering a lump under his arm in January 2018.
As much as Scott loved his job, what truly filled him were his loved ones. He treasured childhood memories at his grandparents' house on Nebraska Avenue and walking to the five and dime store on Cherokee to buy cherry sour balls. The child of two teachers and a Boy Scout himself, Scott appreciated summers that always included road trips with the family camper, lasting several weeks, to many state and national parks as well as many hiking and fishing adventures.
That love of the outdoors, travel, and exercise followed Scott throughout his life. A runner and cyclist, Scott ran in the Maui Marathon and rode in the MS 150 bike race in Illinois.
In June 2002, Scott's friend Becky invited him to a Cardinals baseball game with a group that included her oldest friend, Janet, who was visiting from Boston. The chosen meeting spot: the Stan Musial statue. The attraction was magnetic; the stars were aligned; and three years to that day, on June 25, Scott and Janet wed on Martha's Vineyard, amidst a small group of family and close friends.
In the early years of their marriage, Scott and Janet built a life in Lafayette Square. From Benton Place Dinner Club to concerts in the park, to house tour weekends, to Sunday mornings at Lafayette Park United Methodist Church, to the Tour de Lafayette bike races on Labor Day weekend, their neighborhood became their family. Their neighbors became loved beyond compare and many became godparents and family to their children.
In December 2007, Scott's life changed forever. Three days before Christmas, Scott embraced the most important title of his life: Dad. As he held his son in his arms for the first time, he made a silent, almost subconscious pledge, and his children became his fulcrum. Over the years, two more children joined the party, and Scott fed off the rhythmic chaos of toddler dance parties in the family room and baseball games in the alley. He relished playing kickball in the church gym after services or helping with a lemonade stand in the front yard. When the kids entered school, Scott savored the blessing of a flexible job (with an office in the basement) that allowed him to walk the kids to school, volunteer for field trips, and attend every scouting or sporting event on the calendar. Scott was in his truest element when he could respond to the excited and loving call of "Daddy, I need you!" His favorite fatherly jobs included Rockets T-ball coach, construction manager for church Christmas pageant sets, baiter of fish hooks for small hands, bedtime story reader, Qwirkle master, and robotics coach for Team 91619A.
As a family of five, travel became a centerpiece of treasured times. Summer wasn't truly summer without a ferry ride and trip to the beach house on Martha's Vineyard. Scott cherished time fishing with the kids on Memorial Wharf in Edgartown, walking together to the Edgartown Lighthouse, taking bike rides around the island, or celebrating a Menemsha sunset with a picnic dinner. Those road trips east always included respite at Ma and Papa's Bed & Breakfast – home of all-you-can-eat pasta and meatballs, never-ending supply of banana chocolate chip cupcakes, and limitless "Cheers!" and hugs and kisses and love. Scott adored the family time in the Adirondacks, whether fishing at Caroga Lake or hiking to Nine Corners. In recent times, Scott derived great pleasure from experiencing natural Missouri wonders with his beloveds like float trips on the Current River or exploring quiet little creeks in Dixon or Fredericktown or Perryville.
The legacy he built through his compassion, his ability to bring people together, and his eternal optimism extends not only to his children, but to anyone who knew and loved him.
Scott is predeceased by his father, Robert Whiteaker, and his father-in-law, Peter DePasquale. He is survived by his wife Janet; his children Lucas, Matteo, and Tessa; and so many family members and dear friends who stood by him throughout life.
Scott's Celebration of Life will be held on Saturday, June 25 at 3:00 pm at Lafayette Park United Methodist Church, 2300 Lafayette Ave. 63104. For anyone unable to attend and who would like to watch remotely, Scott's son Lucas will work as part of the tech team to livestream the service. Follow this link: https://fb.me/e/2yJtisAQu
In lieu of flowers, contributions are welcome to "The Whiteaker Family Educational Fund" at Carrollton Bank, 5807 Murdoch Avenue, St. Louis, MO 63109 or donations to the Cancer Support Community in Des Peres.