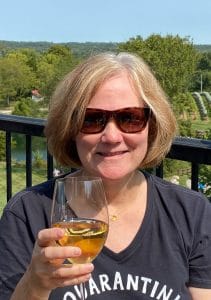 It is not the years lived but how you lived those years
On Monday, May 9 th , 2022, my loving wife, Sheila Lynn Butler (Hebrank), and mother of two sons, passed away at her home at the age of 60. She is survived by her husband of 28 years, Mark, two sons, Connor and Christopher, brother, Craig Hebrank, and many family members and friends. Sheila was preceded in death by her parents, Ronald and Barbara Hebrank, and sister, Donna Hebrank.
She was diagnosed in late March with stage 4 stomach cancer. On hearing this news, she asked that we, her family, not focus on the unfairness of it all, but on the wonderful life that we shared, and the blessings that she was given. She lived this month with grace and peace in spirit.
In that context, we share our thoughts on the passions she held during her life.
Sheila had a deep connection with her mom, Barb.  Not a day passed by that she didn't talk to her, sharing her joys and frustrations. Barb was her emotional rock.  Kids always called her "maw maw".  Barb passed away two years ago.
Sheila loved the St. Louis Cardinals, Mizzou Tigers (Sheila and our son went to MU) and later, Kansas Jayhawk basketball (our son went to KU). She always showed true fan spirit. You could almost imagine a player's chagrin as she shouted at the TV when a bad play was made. I will always chuckle at those memories.
Annual family trips were one of her favorites. The silly songs we sang driving across America, "Green alligators and long-necked geese, some humpty-backed camels and some chimpanzees…". We will always remember the trails we hiked, swimming with the dolphins and rays at Sea World, browsing so many museums, standing in awe of mountains and nature, just learning about our world and appreciating life. Some of her favorite places she visited included southern Spain, mountains of Colorado, Arizona, Virginia and New Zealand.
We admired her strong confidence and positive attitude. She had a small picture frame with the replica of a WWII poster "We Can Do It (Rosie the Riveter)" on her dresser, except her version read "Sheila Can Do It". Words she lived by each day.
She loved our golden retriever named Georgia. Georgia brought needed comfort and so much joy into the family. She came into our lives after Sheila's mom passed away. Georgia greeted family and friends with a toy in her mouth and her signature move the "Butt Wiggle". That always made Sheila laugh. Sheila enjoyed playing a game called, "Where's Georgia". As Georgia got bigger, she wasn't very good at hiding. Sheila would often say "Best dog ever".
Sheila took great pride in working at BJC health systems for over 25 years and formed great relationships with so many colleagues there.
Sheila has so many wonderful friends whom she stayed in touch with through the years. Following the cancer diagnosis, she received an enormous outpouring of love and support from friends, family relatives, and her BJC family. She took great comfort in reading the many thoughtful cards and appreciating the flowers and gifts that were sent to our home. Our house, at one time, looked like a florist shop. Our family was so thankful for all the prayers from so many that touched her life.
Her greatest sense of accomplishment came from raising our two sons. She nurtured them, challenged them, and helped shape their lives into smart, caring, and responsible individuals. The boys are truly grateful for the love and guidance she bestowed on them. Each time they look into the mirror, they see a part of their mom that will always live in them.
Sheila loved reading children's books to our two boys. One of her favorite books was "Love You Forever" by Robert Munsch. With a change of one word, the boys' version goes something like this: "I'll love you forever, I'll like you for always, as long as I'm living, my mommy you'll be."
My wife lived and the world became a better place.
Services
In lieu of flowers, Sheila appreciated donations to be made in her memory to Big Brothers/Big Sisters of Eastern Missouri. Sheila matched with her "Little" 11 years ago and formed a special friendship and love that endured.
Sheila's wishes were to have a small "Celebration of Life" to include family and close friends. No details are available at this time.