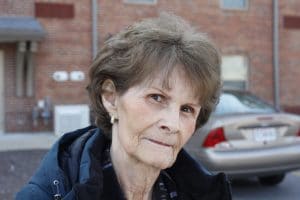 Shela Suann Ray, née Niemeyer, was a bold and resilient woman. The enviably beautiful Shela had a sparkling smile and an unshakably calm demeanor, and only the knowing twinkle in her kind eyes might betray her head-strong determination to those who did not know her well. These features, combined with her multifaceted talents, aided the numerous roles she held within her 75 years: service industry worker, business manager, restaurant owner, church organizer, late-in-life college student, charitable volunteer, among others.
Her role as a mother was closest to her heart, however, and she will now finally be able to rest with her son Jackie Clark, whom she outlived. She leaves behind five other children, Lonnie Clark, Russell Clark, Alison Henry, Becky Ray, and Joshua Ray. Her empathy, curiosity, and zest for life allowed for them to blossom in careers as varied as business and sales executives, a historical preservationist and urban planner, a film critic, and, of course, some as parents themselves. Shela was a mother to more than just her biological children and will be remembered by all for her witty, wise, and compassionate support.
As per her wishes, no service will be held. In lieu of flowers or any other gift, please give a tribute gift in memory of Shela S. Ray to The Women's Safe House here. The Women's Safe House is the oldest and largest domestic violence shelter in the St. Louis region. They empower women and families to rebuild their lives free of domestic and physical abuse through emergency services, education, and advocacy.