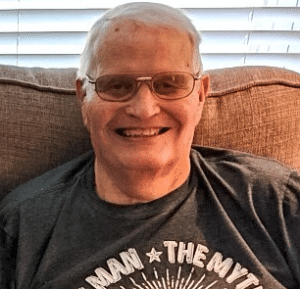 Tom was born on August 12, 1940 in South St. Louis, and enjoyed an  animated youth with his siblings if his fascinating stories are to be  believed. In his teenage years, Tom met Rita. They were married in  1960, and from that day on Tom referred to Rita as his bride. Together  they raised their 5 children and weathered all the ups and downs of  life, along with being parental influences to countless others along the  way. His unconditional love and support has touched many  generations who have already expressed how lucky they are to have  known him.  
Tom had a decorated career in law enforcement spanning over 51  years of service to several police departments in the St. Louis area. Tom originally served as a teletype operator (dispatcher) for 3 years  for the St. Louis City Police Department. Then he moved to the St.  Louis County Police Department for 36 years, where he later retired at  the rank of Major. After a year of retirement, he just wasn't ready to  give up police work, so he then moved on to be the Chief of Ferguson.  Twelve years later, he decided to retire for the good. The optimism of  his spirit and tireless work ethic are reflected not only in his family, but  also in the numerous officers and communities he served.  
Always proud of each and every one of his large family, somehow he  magically had the ability to make each truly believe we were his  favorite. Tom's children include John (Cheryl) Moonier, Christine (Tim)  Stoverink, Katie (Richard) Erhard, Mary (Chuck) Weinman, and Erin  (Michael) Goodman. His grandchildren include Meghan (Mark) Sauer,  Christopher (Janna) Moonier, Josh (Julie) Moonier, Tim (Jennifer)  Stoverink, Joe (Cristina) Stoverink, Jack (Madisyn Weiss) Stoverink,  Tessa (Connor) Grumich, Sarah (Cody Sauer) Ehrhard, Danielle  Ehrhard, Charlie (Jocelyn Celeste) Weinman, Mollie (Logan) Wagoner,  Tommy Weinman, Zachary (Ginny Schranck) Weinman, Lily  Goodman, Zoey Goodman, and Lucy Goodman. His great  grandchildren include Grace, Louis, Emmelyn, Audrey, Mary-Kate,  Elizabeth, Bridget, John, Maggie, Celia, Theo, Stella, Trey, Penelope,  Jameson, Genevieve, Holden, Max, Eddie, and Aria. 
Tom's life will be celebrated with a memorial mass at 11:00 a.m. on  Thursday, December 9 at Blessed Theresa of Calcutta. 150 N.  Elizabeth Ferguson, MO 63135. Visitation preceding mass starting at  10:00 a.m.  
Tom has joined his sweet daughter Katie and precious granddaughter  Danielle in Heaven, who have been patiently waiting for him. He is  preceded in death by Joseph and Florence Higgens, brother Joe, and  sisters Julie, Marie, and Laverne.  
In lieu of flowers, please make donations to https://backstoppers.org/ donate/