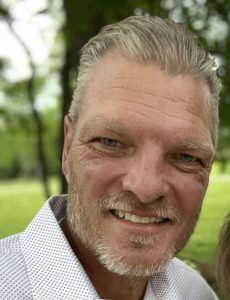 Therefore you now have sorrow; but I will see you again and your heart will rejoice, and your joy no one will take from you. John 16:22
Todd J. Ridder, beloved husband, father, son, brother, and friend departed this life and entered the Kingdom of Heaven on Monday, August 15, 2022. Todd was born on July 29, 1964, in Washington, Missouri to Ray and Betty Ann Ridder. He grew up in Warrenton, Missouri, where he graduated high school having played basketball and earning all-state honors playing trombone in the school jazz band. He went on to graduate from University of Central Missouri, and held the friendships and memories made there as some of his most treasured. On April 30, 1994, Todd married his dearest friend and companion, Laura (Cato) Ridder.
Todd and Laura's union was blessed with a daughter, Lizzie, and son, Ben. His greatest joy in life and the center of his universe was his family. He poured his time, talent, and treasure into the passions of his wife and kids, coaching youth soccer, football, and baseball teams, and serving as a member of the Board of Directors of the O'Fallon Missouri YMCA. He was instrumental in establishing and raising money in support of a Midwest location of Camp No Limits, a non-profit organization serving children with limb loss. Todd and Laura traveled extensively, making it to all 50 states before he turned 50, and saw almost a dozen countries, often taking Lizzie and Ben with them. But some of his favorite family moments were spent enjoying live music, Mizzou football and basketball, Cardinals games, and most of all, Friday "family date nights."
When he sought peace and solitude, Todd retreated to his family's farm in Hermann, Missouri. He reveled in the beauty of its lush, gently rolling hills and felt most at home when there. It's where he made many of his favorite childhood memories with his sister, Sherry. He went there as often as he could, as he cherished the time spent helping his dad, Ray, with the farm chores. He spoke often of his plans to retire there one day.
But Todd also made lots of time for friends and fun. He spent many years playing slow-pitch softball in various leagues. He was also an avid golfer, making pals and cursing bad shots on courses throughout the United States. He took great pleasure in hosting friends, grilling delicious food, serving delectable cocktails and cold beer, and swapping stories that brought on side-splitting laughter. Countless people held Todd among their dearest friends, knowing that his keen curiosity, sharp wit, and genuine interest in those around him made him a rare person. His immense capacity to make every friend feel valued and loved made him an even rarer friend.
Todd was preceded in death by his beloved mother, Betty Ann Ridder. He is survived by his wife, Laura; daughter, Elizabeth Ridder-Lazcano and her husband, Isaac; son, Benjamin Ridder and his girlfriend, Meghan Hertling; his father, Ray and stepmother, Sharon; his sister, Sherry Ridder; his parents-in-law, Jim and Marilyn Cato; his brothers-in law, Jim Cato and Jason Cato and their families; and uncle, cousins, and friends. Additionally, his years of service to youth left an indelible impact on the lives of countless young people throughout the community and beyond.
Todd was a faithful servant of Christ, and an active member of Calvary Church, devoting his service on multiple mission trips in Mexico, where he came to love its culture, food, and people. In lieu of flowers, Todd asked that donations be made to continue the work he loved to the following: World Gospel Mission, RE: Christian School Construction in Irapuato – #268-33562 (Note – Todd Ridder Memorial). Mail to World Gospel Mission, PO Box 948, Marion, IN 46952-0948. Or donate online at WGM.org, click "GIVE," find Fund a Project Window, enter "33562," choose "Christian School Construction in Irapuato," and be sure to note "Todd Ridder Memorial."
A memorial service for Todd will be held Sunday, August 21, 2022 at Calvary Church Chapel, 3998 Mid Rivers Mall Dr., St. Peters, Missouri. Visitation will be from 1:30 to 3:30 with the service immediately following.