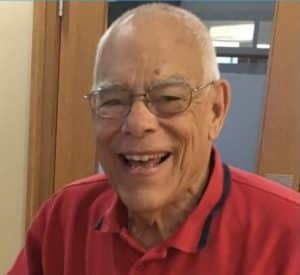 William Terrence "Terry" Moore passed away peacefully on September 6th ,
2022, at the age of 83. He is reunited with his wife of 39 years Shirley Moore,
his parents Wiley Burton "Daddy Burt" and Mary Louis "Mama Lou" Moore,
and sister Marcia Lynn (Moore) Buchele.
Terry is survived by his stepsons Rolf (Karen) Peterson and Roger (Shari)
Peterson; ten grandchildren Cara (Geoff) Johnson, Kristi, Jon (Becki), Caitlin,
Anna (Bob) Villaume, Robert, Joseph, Marie, Sarah (AJ) Terhune, and Hannah
(Fiance' Ken Strauss) Peterson; seven great grandchildren; nieces Mary Jane
(Mike) Johnson, Barbara (the late Paul) Rowland and nephews Bill and Bob
Buchele; great nieces and nephews Jeremy, Zach, Jesica, Austin, Abby, Jacob,
Jenna, Emma and Olivia.
Terry was born in 1939 in Fulton, Missouri. He graduated from Ames High
School, Grinnell College, and received his Masters degree from Iowa
University. In 1963 Terry joined the Peace Corp and was stationed in
Indonesia for two years. He returned to coach football and wrestling at
Grinnell College. Terry worked as a math teacher and coach at Hixson Junior
High School in the Webster Groves School District for 27 years. As "Uncle
Terry, Uncle Scrap Iron" he spent 27 plus years at Camp Mishawaka in Grand
Rapids Minnesota.
Beloved by so many, Terry was truly a wonderful man, husband, father,
grandfather, uncle, teacher, coach, counselor, mentor and friend.
A service will be held at the Laclede Groves Chapel in Webster Groves, 723 S.
Laclede Station Road, at 2:00 pm on Saturday October 8th, followed by a
reception at the Laclede Groves Auditorium. In lieu of flowers, please send
donations to the Alzheimer's Association. https://www.alz.org/